Oil Eases Losses After U.S., China Sign Phase One of Trade Deal
(Bloomberg) -- Oil erased some of the losses that followed the U.S. inventory report after the U.S. and China inked the first phase of a broader trade pact on Wednesday.
Futures in New York settled 0.7% lower after falling as much as 1.5% earlier. China agreed to buy $52.4 billion of additional U.S. energy products as part of a landmark trade deal signed by the world's two top economic superpowers. But a bearish US government report that showed swelling fuel inventories held back further gains from the newly minted deal.
Oil rebounded from a low because of the signing of the initial U.S.-China trade deal, said Bart Melek, head of global commodity strategy at TD Bank in Toronto. "This agreement could pave the way for global demand to improve after nearly two years into the dispute."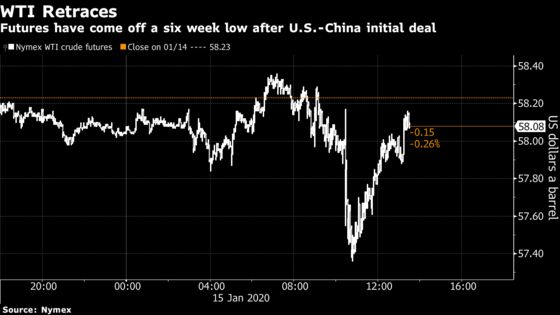 Still, U.S. crude futures remained under pressure as traders focused on the nearly 15-million-barrel rise in U.S. petroleum inventories to the highest in four months, a sign of weak demand. At the same time, domestic oil production hit a fresh record.
Additionally, the Organization of Petroleum Exporting Countries increased its forecasts for growth in output from non-members this year. This comes as tension between the U.S. and Iran is fading since the killing of an Iranian general earlier this month, easing concerns about supply from the Middle East.
West Texas Intermediate crude for February delivery settled 42 cents lower to $57.81 a barrel on the New York Mercantile Exchange, after earlier falling to as low as $57.36.
The prompt WTI futures spread remained in contango, a relationship normally suggesting oversupply. The February contract traded as low as a 7-cent discount to March.
Brent futures for March settlement fell 49 cents to $64 a barrel on the ICE Futures Europe exchange. The global benchmark crude traded at a $6.16 premium to WTI for the same month.
The EIA report shows U.S. gasoline stockpiles rose 6.68 million barrels last week, while distillate supplies increased 8.17 million barrels. In particular, the dip in distillate demand is counter seasonal, and likely due to recent warmer weather in the Northeast. U.S. crude production hit 13 million barrels a day. The rise in fuel stocks and production overshadowed the 2.55-million-barrel decrease in oil stockpiles.
Other oil-market news
Gasoline futures fell 1.1% to $1.6368 a gallon.
Russia and the U.A.E. said that OPEC and its allies will proceed with a scheduled meeting in March to decide whether to continue production cuts. Tass reported Tuesday that it might be canceled.
A month after the world's largest initial public offering, Saudi Aramco's investment banks aren't exactly bullish, with most recommending investors avoid the stock as they kicked off research coverage.
An Arctic blast sweeping across Western Canada is weighing on the price of heavy crude. Temperatures in Alberta and Saskatchewan are cold enough to render the region's viscous oil rock solid.