Oil Boosted by Weaker Dollar and Stronger U.S. Equity Market
(Bloomberg) -- Oil was propped up by a weaker dollar and stronger U.S. equities with speculation growing around the Federal Reserve reinforcing its dovish message.
U.S. crude futures climbed 0.8% on Monday. Equities strengthened on the possibility that a resurgence in global coronavirus cases will push Fed Chairman Jerome Powell to signal rates will stay near zero for longer. Meanwhile, the Bloomberg Dollar Spot Index weakened for a second straight session.
"You're going to have the Federal Reserve that's going to be accommodative, you've got Congress going to pass another relief bill, and that should keep us fairly well supported," said Phil Flynn, senior market analyst at Price Futures Group Inc. "The stock market's showing a little more strength," helping to further boost sentiment.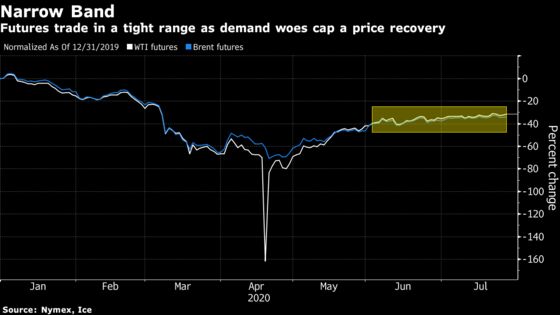 Still, crude futures in New York have been ensnared in a narrow trading range around $40 a barrel since early June, with global virus cases surpassing 16 million, crimping the outlook for a swifter demand recovery. Oil parked in floating storage is 244% higher than a year ago, according to Vortexa data, and still the OPEC+ alliance is preparing to ease unprecedented production cuts in a matter of days.
The shape of the crude futures curve is also pointing to weakness: Both West Texas Intermediate and Brent's prompt spreads are trading in contango, with Brent's in the largest contango structure since May.
"The expanding contango curve in WTI and Brent is a function of oversupply," Bob Yawger, director of the futures division at Mizuho Securities USA, said in a note. "Crude oil has traded above $40 every day this month and it appears that U.S. producers are prepared to take the bait and increase production."
Prices
West Texas Intermediate for September delivery rose 31 cents to settle at $41.60 a barrel in New York.

WTI's prompt spread was 20 cents in contango, the weakest in more than a week.

Brent for September settlement edged 7 cents higher to end the session at $43.41 a barrel.

The global benchmark's prompt spread was 49 cents in contango.
The Bloomberg Dollar Spot Index was down as much as 1.1% on Monday, increasing the appeal of commodities priced in the greenback.
Meanwhile, Senate Majority Leader Mitch McConnell and other top Republicans are set to release a series of bills that represent the $1 trillion GOP plan for a new virus stimulus package after the Senate convenes Monday at 4:30 p.m. in Washington.
"The market's trying to price in what's going on with supply, but the big swing factor's demand," said Rob Haworth, senior investment strategist at U.S. Bank Wealth Management. "We still have kind of two very different bills coming out of the House and Senate, so those need to be reconciled to get it to a point where we can supply income to many people."
Other oil-market news
Reliance Industries Ltd. toppled Exxon Mobil Corp. to become the world's second-largest energy company after Saudi Aramco as investors piled into the conglomerate lured by the Indian firm's digital and retail forays.
Total SE is exiting the U.K. refining business with the sale of its Lindsey refinery to Prax Group as the French oil major slashes costs and divests assets to weather the slump in demand caused by the coronavirus pandemic.
Rosehill Resources Inc. filed for bankruptcy protection after a plunge in oil prices forced the Permian shale explorer to seek a restructuring of its debt.