Oil Slump Leaves Just One European Equity Sector Up in 2018
(Bloomberg) -- It was already an exclusive club before Friday, but now the number of industry groups on the Stoxx 600 Index in positive territory for the year has been reduced to one.
Only healthcare stocks are still in the green in 2018 to date -- and a pretty meager 1 percent at that -- just before the European market closes for the weekend. They had previously enjoyed the company of the oil & gas sector, buoyed until the last few weeks by a rising oil price which had served to supercharge profits and cash flow for the oil majors after a prolonged period of cost cutting left them running leaner operations.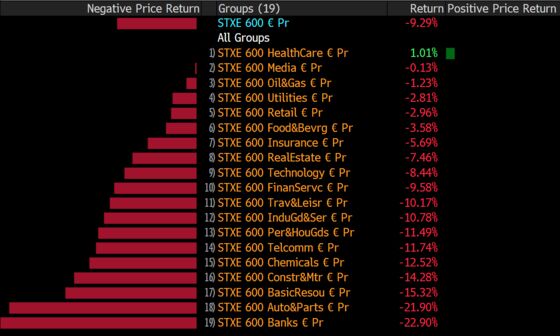 Concerns about a supply glut have weighed heavily on crude in recent weeks and what was left of the honeymoon period ended on Friday as another slump pushed WTI and Brent more than 10 percent down on the year. That battered oil producers and services firms in Europe and put media in the silver-medal position among Stoxx 600 sectors, leaving healthcare out on its own as the lone bright spot after October's general sell-off.