Oil Rolls to Sixth Weekly Gain as Crises Ignite Supply Worries
(Bloomberg) -- Oil notched a sixth weekly advance in a row as unrest in Libya and Sudan raised supply concerns in a market already pinched by OPEC cuts.
Futures rose 1.3 percent for the week in New York for the longest run of gains since March 2016. In Libya, warlord Khalifa Haftar moved forces to the gates of Tripoli, triggering alarm that the OPEC member could slide deeper into chaos. Meanwhile, a military coup in Sudan added to turmoil swirling around producers from Iran to Venezeula.
Crude advanced along with U.S. equities amid a brightening demand picture. The S&P 500 clawed above the 2,900 level for the first time in six months after encouraging trade data out of China and strong earnings from JPMorgan Chase & Co. Chevron Corp.'s $33 billion deal for Anadarko Petroleum Corp. was evidence of growing faith in the U.S. shale boom.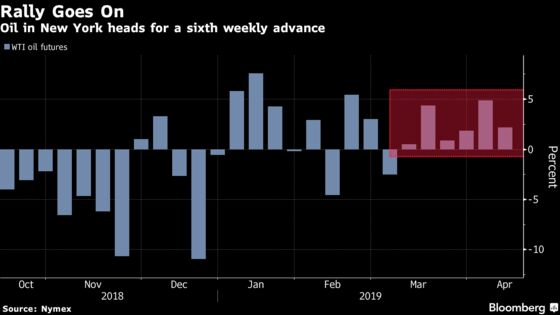 "There's continued depletion of global crude inventories and it's hard to sell a market when that happens," said Thomas Finlon, director of Energy Analytics Group Ltd in Wellington, Florida.
Crude has rallied more than 40 percent this year as curbs by the Organization of Petroleum Exporting Countries and its partners -- originally intended to prevent a surplus -- are compounded by unintended losses among its members. While that's crimping supplies, the International Energy Agency said it could lower demand forecasts because of lingering threats to the global economy.
West Texas Intermediate gave back some gains after a report showed U.S. oil-rig activity increasing for the second straight week. Nonetheless, WTI for May delivery ended the day up 31 cents to close at $63.89 a barrel on the New York Mercantile Exchange.
Brent for June settlement rose 72 cents to $71.55 a barrel on the London-based ICE Futures Europe exchange, and gained 1.7 percent for the week. The global benchmark crude was at a premium of $7.53 to WTI for the same month.
See also: Venezuela Oil Output Slumps to 16-Year Low as Blackouts Persist
The International Monetary Fund predicted that global growth this year will be the weakest in a decade. Risks to oil demand are "currently to the downside," the IEA said in a report on Thursday.
"When will we see a ceiling?" asked Finlon, of Energy Analytics. "When there's a demonstrative downturn in demand due to pricing or when a number of geopolitical hot spots cool down. Right now, I don't see anything really poised to restrain it from going further."
Other oil-market news:
Gasoline futures climbed 0.3 percent to $2.037 a gallon.
Saudi Aramco's bond prospectus shows that the world's top crude exporter is feeding more than a third of its oil into its fully-owned and joint-venture refineries.
As calls for action against climate change get stronger, concern is mounting within Norway's oil industry after the country's biggest political party decided to withdraw support for drilling off the Lofoten islands.