Oil's Slide Has Hedging Bet Finally Paying Off for U.S. Drillers
(Bloomberg) -- The plunge in oil prices may finally make oil producers' hedging contracts into a financial winner for 2018.
After more than a year of surging prices made the contracts a drag on profits, the slide in West Texas Intermediate crude to around $55 a barrel this month means some of the hedges are edging toward profitability, said Anastacia Dialynas, a Bloomberg NEF analyst.
A BNEF analysis based on regulatory filings by top Permian shale basin producers shows Diamondback Energy Inc. with 49 percent of its output hedged for 2018 at a weighted average price of $58.41 a barrel. Concho Resources Inc., meanwhile, has hedged 77 percent of production at an average $55.32 and Pioneer Natural Resources Co. has 81 percent of its barrels covered at $47.22, according to BNEF.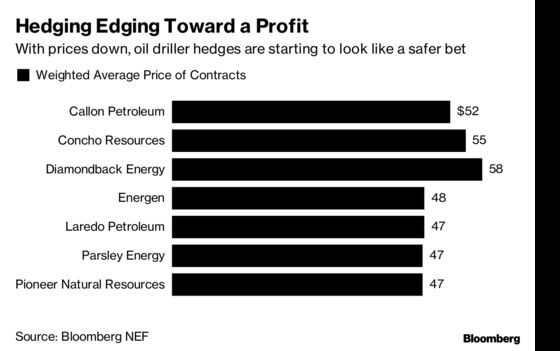 "These hedge prices are starting to look competitive, especially with oil dropping," Dialynas said. "Companies have locked in a price that will at least cover their production costs."