Oil's Sell-Off Below $60 Ripples All the Way Along the Curve
(Bloomberg) -- The tumult in crude prices is resonating through next year and the years after that.
Brent crude futures fell below $60 a barrel for the first time since 2017 on Friday, and that move pulled vast swathes of the futures curve nearly $2 a barrel lower. The global benchmark is now trading in a bearish contango structure -- one that makes it profitable to store oil in tanks and suggests an oversupply in the market.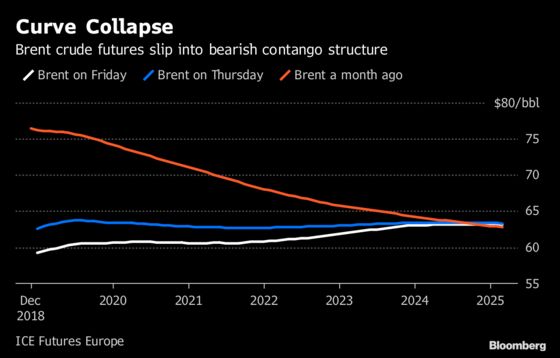 As a result of the move, a favored trade of market speculators -- the spread between Brent for December 2019 and December 2020 -- fell into contango for the first time since October 2017.
Crude's plunge into a bear market has been driven by record Saudi Arabian production, alongside President Trump's unexpected decision to grant sanctions waivers to buyers of Iranian oil. At the same time, U.S. shale output has surged to an all-time high, surpassing market expectations.