Oil Leaps to 6-Month High as U.S. Vows to Strangle Iran Exports
(Bloomberg) -- Crude leapt to its highest in six months after the Trump administration said it will no longer give China, India and other major economies a pass on sanctions barring purchases of Iranian oil.
Brent crude futures closed 2.9 percent higher Monday after U.S. Secretary of State Mike Pompeo said no more waivers will be issued on sanctions aimed at isolating the Islamic Republic. In response, Iran threatened to shut the Strait of Hormuz, a key maritime chokepoint for Persian Gulf producers, and said it's engaged in "intensive" talks with partners to blunt the impact of Trump's escalation.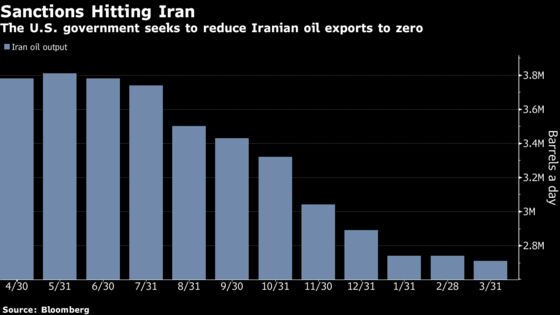 "The decision will not only mean maximum pressure on Iran but also maximum pressure on oil markets," Joe McMonigle, head of energy policy at Hedgeye Risk Management LLC, said in a note to clients. "Combined with declines in global crude stocks, continued losses in Venezuela production as well as a possible disruption in Libya, a zero-waivers Iran decision will present a challenge to keeping global oil prices in check."
The existing exemptions -- issued to China, Greece, India, Italy, Japan, South Korea, Taiwan and Turkey -- are set to expire on May 2. Brent, the international crude benchmark, has risen almost 40 percent this year as the Organization of Petroleum Exporting Countries and allies such as Russia curbed output. American sanctions on Iran and Venezuela, as well as conflict in oil-rich Libya, squeezed supplies further.
Saudi Energy Minister Khalid Al-Falih said Monday the kingdom will coordinate with fellow oil producers to ensure the global crude market "does not go out of balance."
Brent for June settlement climbed $2.07 to $74.04 a barrel on London's ICE Futures Europe exchange. It was the highest close for the contract since Oct. 31.
West Texas Intermediate for May delivery, which expires Monday, advanced $1.70 to $65.70 on the New York Mercantile Exchange, while the more-active June contract rose by $1.48 to $65.55.
Oil-explorer stocks also benefited, with Pompeo noting that surging American production will help replace Iranian barrels. The S&P 500 Energy Index rose as much as 2.2 percent, with gains led by Marathon Oil Corp. and Devon Energy Corp.
Gasoline futures added 2.8 percent, reaching the highest price since early October.
The decision to wind down the waivers came after National Security Adviser John Bolton argued that U.S. promises to get tough on Iran were meaningless with the exemptions still in place.
It was a harsher step than some investors expected, said Michael Lynch, president of Strategic Energy & Economic Research in Winchester, Massachusetts. The ultimate impact depends on how hard the Saudis work to fill the gap and how President Donald Trump reacts if the crackdown impacts U.S. consumers, he said.
"These last few days, we've seen plenty of stories about rising gasoline prices, just in time for the summer driving season," Lynch said. "What everybody is going to be pointing to is Trump tightening sanctions on Iran."
Other oil-market news:
Gasoline futures added about 6 cents to $2.1298 a gallon.
Halliburton Co. said U.S. oilfield-service prices have hit bottom and the world's biggest provider of fracking expects demand to improve.
Hedge funds are betting rising tensions around the globe will keep fueling oil's rebound this year.