Oil Price Decline Won't Halt Norges Bank March to Higher Rates
(Bloomberg) -- The recent slump in oil won't hinder the central bank of Western Europe's largest crude producer from tightening monetary policy.
While crude has dropped 23 percent from a four-year high, a weakening in the krone will see Norges Bank stay the course toward higher rates, according to analysts.
"The lower oil price is, in isolation, lowering the interest rate path," Handelsbanken strategist Nils Kristian Knudsen said in an email. "But the current weaker-than-expected krone is working in the opposite direction - damping the effect of the lower oil price."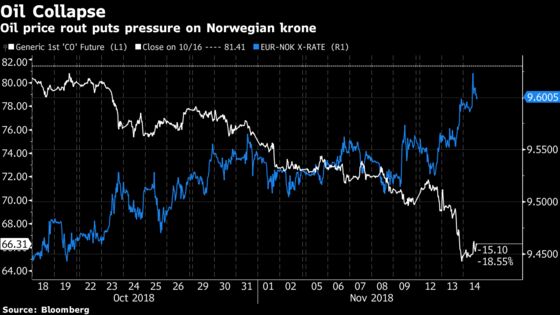 Norges Bank raised its key policy rate for the first time in seven years in September and has signaled it will hike again at the beginning of next year. It's prognosis factors in an oil price of $74 a barrel this year and $76 a barrel in 2019, while Brent is now trading about $65.
After crude more than halved in 2014, the government dipped into its sovereign wealth fund for the first time in 2015 and unleashed a massive fiscal stimulus to avoid a recession. Higher oil prices have since revived the country's offshore industry and the government is again plowing cash back into its behemoth piggy bank.
The recent price decline comes after a flow of economic data at the lower end of the central bank's estimates. Economic growth slowed in the third quarter as a summer drought impacted production, retail sales fell and price growth also cooled, missing analyst estimates even as it fell into line with the central bank's view.
While a sustained drop in oil prices will no doubt hit the Norwegian economy hard, for now the central bank will look through the decline, according to Swedbank.
"Based our calculations, the current oil price of around $65 should lead, in isolation, to around 10 basis points lower interest rate path further out, that is 2020-2021," Swedbank economist Kjetil Martinsen said in an email. "Yet they are likely confident with their plan of very gradual hikes over the coming years."