Oil Options Traders Buy Into Talk of Crude Topping $100 a Barrel
(Bloomberg) -- Oil trading executives spoke, and the options market liked what it heard.
The total number of options traded on Brent crude surged on Monday to about 274,000 contracts, the highest ever, data showed. The flurry was driven by record call trading -- including bets on $100 a barrel or more -- as the global benchmark reached an almost four-year high and major oil trading houses publicly predicted the return of triple digit crude for the first time since 2014.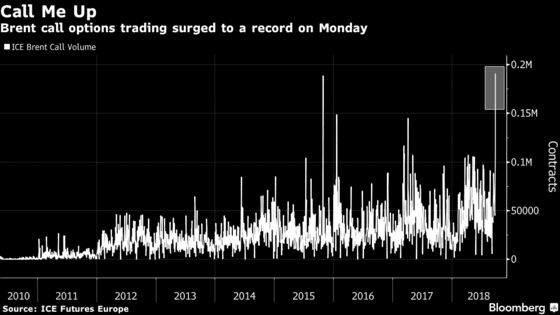 At the S&P Global Platts Asia Pacific Petroleum Conference in Singapore, executives from Mercuria Energy Group Ltd. and Trafigura Group Ltd. talked about the potential for crude reaching $100 or more. The bullishness was spurred by the Organization of Petroleum Exporting Countries and its allies struggling to compensate for U.S. sanctions on Iran's exports, despite demands from President Trump to lower prices.
"If Saudi Arabia doesn't want to play ball with Trump and lift production then higher prices are a self-fulfilling prophecy," said Richard Fullarton, founder of London-based oil hedge fund Matilda Capital Management. "That seems to be the trade for the next quarter."
Contracts equivalent to more than 28 million barrels of Brent crude oil traded on Monday that would profit a buyer from the global benchmark rising above $100 a barrel in the next six months. They included 10 million barrels betting that Brent would top $110 by the end of November and 11 million barrels that it would surpass that level by the end of next month.
There were more than two bullish call options traded for every bearish put, as call trading surged to a record 191 million barrels, according to Intercontinental Exchange data.
It's not just traders who have turned bullish on crude in recent days; some of Wall Street's biggest banks have joined them. Bank of America Merrill Lynch said on Monday that it sees Brent reaching $95 a barrel by the middle of next year, while JPMorgan Chase & Co. dropped its previous bearish view in favor of higher prices in the short term.
Despite the fervour, not everyone sees sustained elevated prices. Janet Kong, who heads BP Plc's trading business in Asia, said on Monday that any spike may be short-lived amid the continuing trade face-off between the U.S. and China. That sentiment showed up in Brent options skews -- the premium paid for puts over calls -- which settled at their most bearish level in a month on Monday.
"I don't believe we're necessarily in a sustained crunch period," Kong said in an interview. "The U.S.-China trade war is largely ignored in terms of pricing by the market."