Oil Posts Fourth Weekly Gain Despite Doubts Over China Growth
Oil fell, paring a weekly gain, as investors weighed improving supply fundamentals against doubts surrounding China's economic growth.
Futures in New York slid 2% Friday but notched a 13% increase for the week.Major producers continue to scale back production. U.S. explorers laid down another 21 oil rigs, bringing the total to the lowest since 2009. Beijing abandoned its economic growth target for this year due to "great uncertainty" over the coronavirus, triggering concerns over a demand recovery.
"We are starting to see some gradual improvements in the global economy, notwithstanding China, and it's going to get better from here," said Bill O'Grady, chief market strategist at Confluence Investment Management LLC. "So, we've gone from being undervalued due to fears of the lack of inventory capacity to now being about where we ought to be based on where inventories are."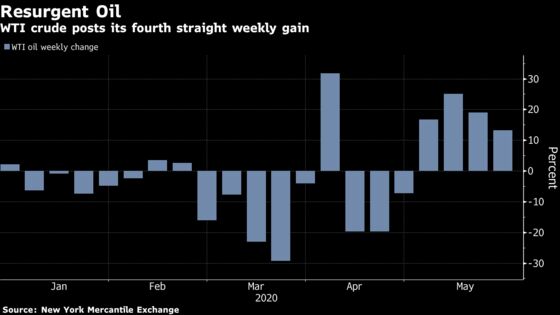 However, there are still warning signs that any recovery will be long and slow. The research unit of state-owned China National Petroleum Corp. said fuel demand in the country will drop by 5% this year. Plus, U.S. oil production shut-ins have peaked, Mark Rossano, an analyst with consultancy Primary Vision said.
Yet, output cuts by major producers have helped shrink inventories globally at the same time that OPEC+ works to implement its pledged reductions. The alliance's program this month is on the way to trimming 9.7 million barrels of daily crude output -- roughly 10% of global supplies and stockpiles at the storage hub at Cushing, Oklahoma, shrank by the most on record last week.
Prices:
West Texas Intermediate crude for July delivery dropped 67 cents to settle at $33.25 a barrel.
Brent for July settlement fell 93 cents to end the session at $35.13 a barrel on the ICE Futures Europe exchange.
Gasoline futures fell 0.7% to $1.0382 a gallon.
China's oil demand earlier this month was probably at 92% of levels at the same time last year, IHS Markit said, and full-year consumption is likely to be around 8% lower than in 2019.
More oil-market news
America is doubling up on imports of the key ingredient to make premium gasoline from India ahead of summer after domestic refiners slashed production in response to the virus-driven demand collapse.
The cheapest gasoline in nearly two decades won't be enough to entice nervous Americans to hit the road for Memorial Day weekend, as Covid-19 fears and economic woes continue weigh on prospective drivers.
Royal Dutch Shell Plc and Eni SpA won dismissal of a $1 billion U.K. lawsuit brought against them over allegations they knew about bribes in a Nigerian oil deal.
Returns from turning oil into fuels are lagging behind crude's jump, signaling that prices are still vulnerable and demand may not be recovering fast enough to justify the rally.