Saudi Stocks Are Strengthening Their Link to Oil
(Bloomberg) -- Saudi Arabian stocks and Brent crude are trading with the strongest link in 15 months as the increasing price of the commodity could lead to faster economic growth for the world's biggest oil exporter.
The 120-day correlation between Brent crude and the Tadawul All Share Index is the most positive since July 2017, with oil prices and Saudi stocks moving in the same direction and reviving a pattern that has existed for most of the past two decades. For about eight months ended in March, the two went opposite ways as investors became more concerned with political headlines coming out of Riyadh than oil prices.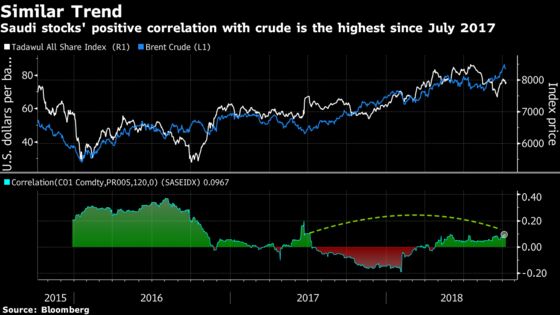 Oil prices have surged this year, with Brent climbing to a four-year high in London on concern that Saudi Arabia isn't ramping production up quickly enough to make up for losses elsewhere. The kingdom this month announced plans to increase spending in 2019 more than initially forecast as authorities take advantage of higher oil prices.
One benefit of increased government spending will be a lower jobless rate next year, Crown Prince Mohammed Bin Salman said last week in Riyadh. Saudi Arabia's economy is still heavily dependent on oil, with more than 70 percent of government revenue and 80 percent of exports from crude, according to the International Monetary Fund.
When oil prices rise, Saudi Arabia's budget and spending tend to expand, said Jassim Al-Jubran, an analyst at Aljazira Capital Co. in Riyadh. Banking stocks could be among those benefiting the most because they "are often considered the core of the economy. Lenders might see their lending portfolio and credit loans increasing," he said.
The disappearance of Saudi journalist Jamal Khashoggi, injecting new complications into Saudi Arabia and Turkey's already fraught relations, has had no bearing on Saudi equities, Al-Jubran said.
In Riyadh, the Tadawul's main benchmark has risen 9 percent this year, outperforming developing economies' gauges as the Saudi index is set to be included in the MSCI Inc. and FTSE Russell emerging-market measures starting next year. That should lead to billions of dollars in inflows from investors.