Oil Jumps After Saudi Arabia and Russia Agree to Extend Pact
(Bloomberg) -- Oil jumped in New York and London after Russia and Saudi Arabia agreed to extend into 2019 their deal to manage the oil market, known as OPEC+, although Moscow and Riyadh have yet to confirm any fresh output cuts.
Brent crude for February rises as much as 2.3 percent to $60.82 a barrel while West Texas Intermediate for January delivery added as much as 3.2 percent to $52.55.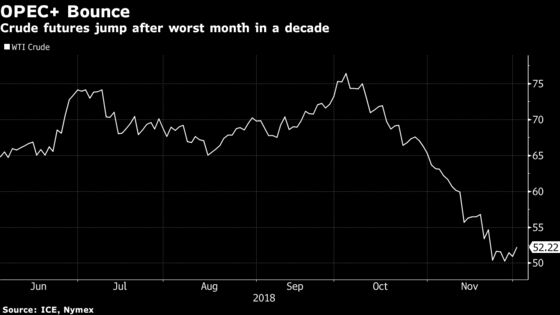 Russian President Vladimir Putin announced the extension after a meeting Saturday on the sidelines of the Group of 20 with Saudi Arabian Crown Prince Mohammed bin Salman.
The comments open the door for a deal at the OPEC meeting next week in Vienna. OPEC delegates said the leaders have given their political blessing for an agreement, but plenty of work is left, including on the size of any potential output cut.
OPEC, which pumps four-in-10 barrels produced worldwide, will convene in Vienna on Dec. 6 to discuss output cuts after oil prices in November suffered the largest monthly drop since the global financial crisis in 2008.
Putin Says Russia, Saudi Arabia Will Extend OPEC+ Oil Pact
Investors have been playing it safe on U.S. crude ahead of a make-or-break week for oil markets