Oil Recovers With Stronger U.S. Equities But Demand Woes Linger
(Bloomberg) -- Oil edged up with support from U.S. equities, but pandemic-driven demand concerns capped the price rebound.
Crude futures in New York managed to close 0.5% higher on Monday, boosted by a stronger equity market. Still, the coronavirus is raging around the globe -- infections flared by a record in Hong Kong, Los Angeles is on the brink of another stay-at-home order and the new rate of people testing positive for the first time in Florida climbed to nearly 15%.
"The rising infection rates are adding doubt to the idea that demand is going to recover uninterrupted," said Bart Melek, head of global commodity strategy at TD Securities in Toronto. "This virus in no way is done, but continues to be a big issue."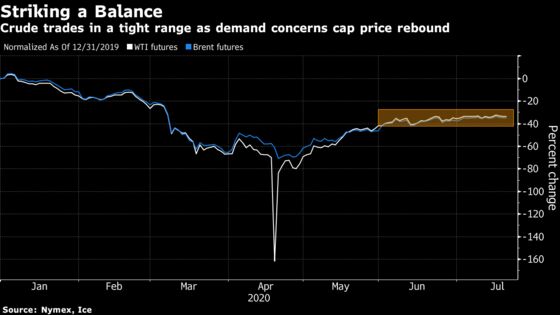 Crude has been stuck in a holding pattern this month as a resurgence in coronavirus cases in various parts of the world proves demand weakness is here to stay for the near-term. Global virus cases are approaching nearly 15 million. Signals that U.S. companies may start ramping up shale production as the OPEC+ alliance prepares to unleash crude back onto the market next month are also adding to the negative sentiment.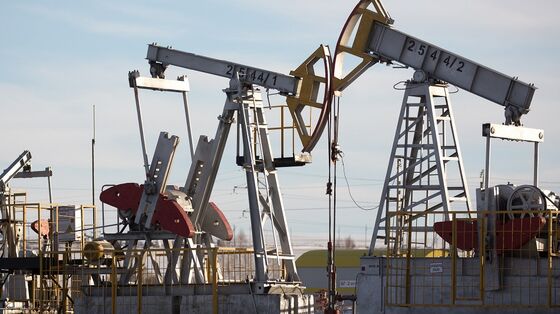 Market participants are also awaiting the next clear signal as to whether American crude inventories, which are sitting at the highest seasonal level in decades, will continue to trend upward.
"What the market really needs to see is, are we at the worst of the inventory problem? Or are we just going to see a continued rise in stockpiles?" said Bill O'Grady, executive vice president at Confluence Investment Management in St. Louis. "Right now, you're really not seeing much of anything in either direction."
Prices:
West Texas Intermediate for August delivery, which expires Tuesday, rose 22 cents to settle at $40.81 a barrel.

The more-active September futures gained 17 cents to settle at $40.92 a barrel.

Brent for September settlement added 14 cents to end the session at $43.28 a barrel.
In a further warning sign for the oil market, Chinese demand is cooling off. A rebound in consumption in the Asian giant helped drive crude higher, but the price of physical oil barrels traded in Asia has slipped with the the country's buying spree slowing in recent weeks.
Other oil-market news:
Chevron Corp. agreed to buy Noble Energy Inc. for about $5 billion in shares as the oil giant looks to beef up amid the wreckage of the worst-ever crude crash.
Earlier this month, a federal judge stunned the U.S. energy sector with an order to shut down the Dakota Access pipeline. Environmentalists hailed it as the first time a fully operating system had been forced to close by a legal challenge. As it turns out, it was actually the second time an oil pipeline was ordered shut in a matter of four days.
Latin America's fuel consumption is rising, bringing some relief to U.S. refiners that rely on the region for nearly half of their exports.