Oil Pares Rally in Wake of Mounting U.S. Fuel Supplies
(Bloomberg) -- Oil pared gains as investors assessed a government report that showed a decline in U.S. crude inventories, yet an increase in refined product supplies.
U.S. benchmark crude futures closed at the highest in five months, but eased off session highs following Energy Information Administration data that showed gasoline and distillate stockpiles increased by a combined 2 million barrels as the summer driving season nears its end. The recovery in gasoline demand has stagnated, with deliveries stuck around 8.6 million barrels a day, close to 10% down on year-earlier levels.
Still, domestic crude stockpiles fell to the lowest since April, with shipments from Saudi Arabia declining to the second-lowest on record.
"The clock's running out on drawing crude inventories down," said Bill O'Grady, executive vice president at Confluence Investment Management in St. Louis. "It happens pretty much every year, but this year it'll be a bigger problem," given depressed demand.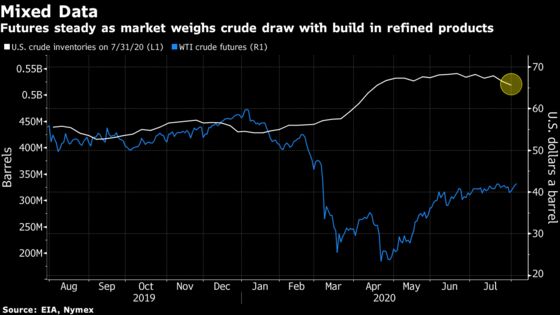 After rebounding from a plunge below zero in April, crude's rally has stalled as the resurgence of the coronavirus pandemic weighed on the outlook for a swift demand recovery. U.S. benchmark futures fluctuated in a tight trading range near $40 a barrel since June.
"Given OPEC+ will continue to match its sequestered supply to the growing demand and coronavirus risks still remain a major global demand risk factor, a sustained breakout" for West Texas Intermediate futures into a higher trading range of $45 to $50 a barrel "is unlikely this year," Bart Melek, head of global commodity strategy at TD Securities, said in a note.
Prices
West Texas Intermediate for September delivery rose 49 cents to settle at $42.19 a barrel.

In physical markets, Bakken crude edged lower after trading at the strongest level since May earlier this week

Brent for October settlement climbed 74 cents to end the session at $45.17 a barrel, the highest since early March
The 3-2-1 refining margin for combined gasoline and diesel against WTI -- a rough profit gauge for processing a barrel of crude -- ended the session below $10 a barrel for the second consecutive day. The measure is at its lowest seasonal level in nearly a decade as the pandemic keeps Americans off the road during the normally busy summer driving season.
Meanwhile, American shale drillers have signaled the end of output growth, with Diamondback Energy Inc.'s chief executive officer saying there are currently no market signals that such growth is needed.
U.S. crude production ticked lower by 100,000 barrels a day last week, the EIA data showed.
Domestic oil producers "indicated that they're going to be disciplined, and not necessarily grow production, which will be beneficial for oil prices in the longer term," said Rob Thummel, portfolio manager at Tortoise.
Other oil-market news
Saudi Aramco plans to release pricing for September's crude shipments on Thursday, after delaying the decision earlier this week, according to people with knowledge of the situation.
In the wake of Tropical Storm Isaias, New York Governor Andrew Cuomo ordered an investigation of the state's electric utilities as more than 2 million homes and businesses remained without power along the U.S. East Coast.
TC Energy Corp. has reached agreements with four labor unions to build the controversial Keystone XL oil pipeline -- a move that could amplify political pressure on Joe Biden, who has threatened to rip up permits for the project even as he courts blue-collar workers.
The volatile chemical suspected of causing the deadly explosion that flattened Lebanon's main port had been lying in storage there for six years despite warnings from customs officials about its hazards, documents show.