Oil Slips With New Coronavirus Strain Threatening Fuel Demand
(Bloomberg) -- Oil declined to the lowest in a week amid expectations that a new spreading coronavirus variant and related travel curbs will weaken global fuel consumption already under pressure.
Futures slid 2% in New York on Tuesday. The new Covid-19 strain that emerged in the U.K. is possibly already in Germany, France and Switzerland, officials in those countries said. More than 40 countries are restricting flights and effectively isolating the U.K. In the U.S., the virus has hospitalized almost twice as many Americans as at any point in the pandemic and vaccine doses for most people are still months away.
"This sudden, panicked action by government around the world points to the risk of even more widespread lockdowns and travel restrictions well into the new year," said Pavel Molchanov, energy research analyst at Raymond James & Associates Inc. "Needless to say, that will slow down the recovery in global oil demand and is weighing on oil prices."
A stronger dollar is also reducing the appeal of oil, which is priced in the currency.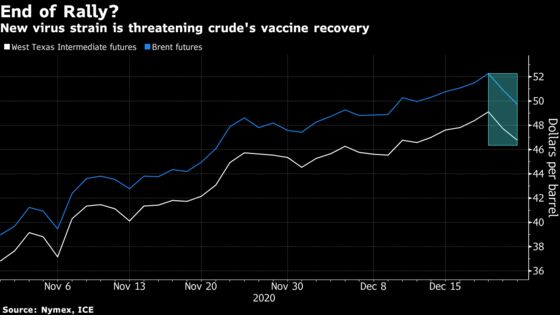 The threat to near-term demand from additional stay-at-home measures has rippled across oil markets. Brent contracts for prompt delivery are back at a discount against later deliveries -- a bearish pattern known as contango. Gazprom Neft CEO Alexander Dyukov said global demand for oil liquids is set to return to pre-pandemic levels by early or mid-2022 at the latest.
Investors are also turning attention to U.S. inventories. The industry-funded American Petroleum Institute was said to report a 2.7 million-barrel increase in U.S. oil stockpiles last week, ahead of a U.S. government report on Wednesday.
Prices
West Texas Intermediate for February delivery dropped 95 cents to settle at $47.02 a barrel on the New York Mercantile Exchange; It fell to as low as $46.71 at 4:30 p.m. in New York, right after the API report
Brent for February dropped 83 cents to end the session at $50.08 a barrel on the ICE Futures Europe exchange
Meanwhile, the U.S. Congress passed the second-biggest economic rescue package in American history as part of a massive year-end spending bill. The Senate followed the House late Monday in passing by overwhelming margins the $2.3 trillion bill.
Other oil-market news
Oil prices may be surging and Asian fuel consumption recovering, but for the region's refiners the short-term outlook remains grim.
Europe's air traffic is still only about half what it was when the continent's national lockdowns began, but tightening supply has propelled a keenly-watched jet fuel price marker to where it was when Covid-19 first hit.