Oil Rallies Above $75 With OPEC+ Output Deal Left in Limbo
(Bloomberg) -- Oil advanced, closing above $75 a barrel for the first time since 2018, with an OPEC+ deal left in limbo after producers earlier signaled a tentative agreement to only gradually increase supplies through the end of the year.
Futures in New York jumped 2.4% on Thursday, the biggest gain in more than a week. Talks among the OPEC+ alliance ended Thursday with no final agreement on production policy, with the United Arab Emirates raising a last-minute objection to the deal. However, the group earlier appeared to have an agreement in principle to boost output by 400,000 barrels a day each month from August to December. Ministers will reconvene on Friday.
"These are cat-herding exercises to a certain extent with getting a couple dozen ministers to agree on pretty much a single number," said Peter McNally, global head of industrials, materials and energy at Third Bridge. "These things always take time."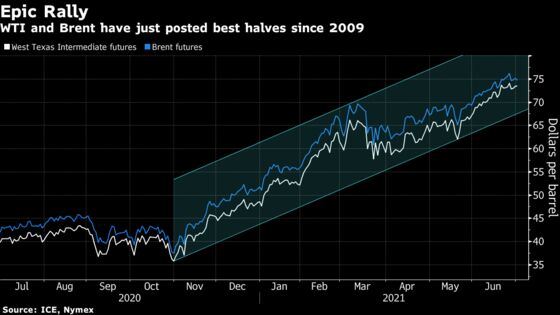 Oil posted the best half since 2009 as prices grind higher, aided by a global recovery taking place from the U.S. to Europe and China. Crude inventories in the U.S. are falling at the fastest rate in decades with shale producers and the OPEC+ alliance remaining disciplined. Citigroup Inc. expects the oil market to remain in a deep deficit even after accounting for higher OPEC+ output through the summer.
"OPEC is looking like it's going to keep some restraint, and to me, the market is in a really good place," said Rebecca Babin, senior energy trader at CIBC Private Wealth Management, US. "People are very comfortable and constructive with the profile over the next year."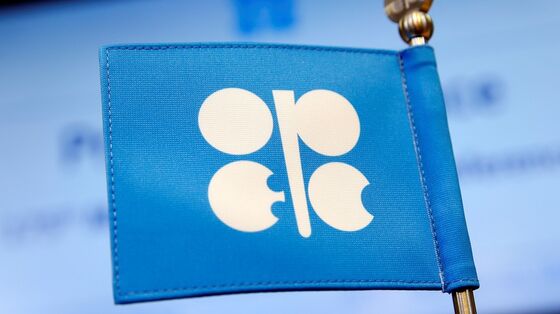 The OPEC+ preliminary agreement was upended by the United Arab Emirates, which said it would only give its support if the baseline for its own cuts was raised considerably, delegates said, asking not to be named because the talks were private.
The UAE's cuts are measured from a starting point in 2018, which set the country's maximum capacity at 3.168 million barrels a day. But expansion projects have since raised that number to about 4 million barrels a day. Reflecting that new capacity in its baseline could allow it to pump hundreds of thousands of barrels a day of extra crude while technically remaining in compliance with its obligation to cut.
Prices
West Texas Intermediate for August delivery climbed $1.76 to settle at $75.23 a barrel
Brent for September settlement rose $1.22 to end the session at $75.84 a barrel

Brent's prompt timespread is 88 cents a barrel in backwardation compared with 75 cents a week ago
Along the oil futures curve, the market structure strengthened and timespreads moved deeper into backwardation, a sign of supply tightness. West Texas Intermediate crude for September delivery closed at a $1.27 premium to its October contract, the strongest in about three years. The sharp gains at the front end of the futures curves for Brent and WTI are a sign that traders are banking on extreme market tightness in the coming weeks.
"It's a pretty huge move, to be honest with you," said Babin. "And it definitely indicates that over the next several months, there's probably going to be difficulty getting enough crude oil for the summer driving season in the U.S."
Meanwhile, the gap between WTI crude and its global counterpart Brent narrowed markedly to the smallest gap in eight months as fuel demand rises during the U.S. summer driving season and domestic inventories rapidly drain.
Investors are also keeping an eye on the delta variant, which poses a threat to the global demand recovery. The spread of the variant has led the market to a technical resistance level, according to Bart Melek, head of commodity strategy at TD Securities.
Other oil-market news
A tally of seaborne oil exports from 29 countries or regions for June shows an aggregate increase of about 700,000 barrels a day versus May, according to tanker tracking data compiled by Bloomberg News.
Saudi Arabia and Kuwait, two key producers within the OPEC+ producer alliance, scaled back oil shipments to China and India last month. A jump in shipments to both nations from the United Arab Emirates helped to fill the void. Libyan exports recovered.
The U.S. oil futures curve is pointing to a tightness the market hasn't seen in years, sparking concerns of the potential for sharp inventory drawdowns.