Oil Jumps With Saudi Arabia Lambasting OPEC+ Laggards
(Bloomberg) -- Oil posted its largest three-day advance since May after Saudi Arabia forcefully renewed calls for OPEC+ members to adhere to their production quotas.
Futures in New York climbed 2% on Thursday to the highest level in two weeks. During the OPEC+ Joint Ministerial Monitoring Committee meeting, Saudi Arabia's Prince Abdulaziz bin Salman condemned cartel members that have cheated on production quotas. Russia's Energy Minister Alexander Novak said the group should continue to strive for high compliance.
Prince Abdulaziz went as far as to warn short sellers not to challenge the kingdom's resolve. "I want the guys in the trading floors to be as jumpy as possible," he said. "I'm going to make sure whoever gambles on this market will be ouching like hell."
This week, the United Arab Emirates signaled that it would make up for pumping too much oil in the past two months. Saudi Arabia's energy minister said Thursday the U.A.E. has shown its commitment to the cuts and issued a stark warning to oil speculators not to bet against OPEC+.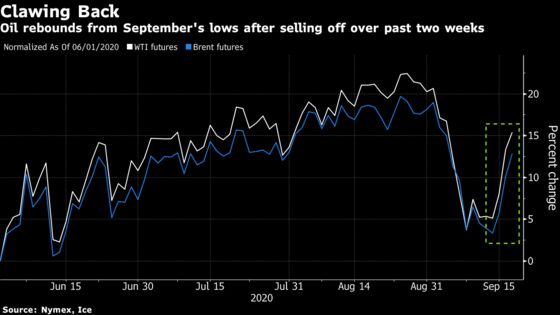 Still, a consumption recovery remains a challenge for oil markets. During the OPEC+ Joint Ministerial Monitoring Committee meeting, the group said it sees risk to oil demand from a second wave of the Covid-19 pandemic and urged members to be proactive and ready to take further action. In the U.S., a slight rebound over the summer in gasoline demand has stalled with the equivalent of a million full-sized pickup trucks off the road as the pandemic forces Americans to stay at home.
"Right now global demand is terrible," Paul Sankey, founder of Sankey Research, said in a note. "The demand side is broken, and the oil complex is in crisis management mode."
Prices
West Texas Intermediate for October delivery rose 81 cents to settle at $40.97 a barrel. The contract settled above its 200-day moving average, a key technical level above which it has struggled to sustain a rally
Brent for November settlement advanced $1.08 cents to end the session at $43.30 a barrel, its highest since Sept. 3. The global crude benchmark saw its largest three-day rally since early June
Physical markets for actual barrels of crude are showing signs of weakness, with Bakken crude for delivery at Clearbrook, Minnesota, trading in recent sessions at its largest discount to Nymex oil futures in roughly a week. Poseidon crude erased its premium against Nymex WTI futures, trading at its weakest level in about two months.
"The fundamentals are still very challenging for petroleum," said Andrew Lebow, senior partner at Commodity Research Group. "The market is recalibrating its view of how much inventory we're drawing, if any."
In the U.S. Gulf Coast region, companies are beginning to return to business as usual following Hurricane Sally. Royal Dutch Shell Plc's Norco refinery in south Louisiana is preparing to raise process rates to normal levels, after reducing operations earlier this week ahead of Hurricane Sally, according to a person familiar with operations.
Other oil-market news:
The U.S. is looking to tighten requirements on bonds issued by a growing number of bankrupt oil producers to deal with abandoned offshore wells that could eventually become environmental disasters.
The oil market has a diesel problem and it's not letting up. While crude stockpiles in the U.S. are sitting at the lowest since April, supplies of distillates, which include diesel, heating oil and jet fuel, are continuing to swell and skyrocketed to the highest level for this time of year in U.S. government data going back to at least 1991.
South Africa's Strategic Fuel Fund reached an "in principle" agreement with Glencore to reverse a 2015 sale of strategic oil reserves, the state-owned SFF said Thursday in a statement.