Oil Back Below Zero? There's an Option for That Now
(Bloomberg) -- Oil options traders will now be able to buy and sell contracts with values below zero, after announcements from the two biggest exchanges.
Intercontinental Exchange Inc. said it will soon allow for the listing of options contracts with strike prices that are negative. It follows a similar recent announcement from CME Group Inc. that it would make negative options available on West Texas Intermediate and other oil contracts as of Wednesday's close.
The move comes after WTI futures crashed below zero for the first time ever earlier this week. In the options space, that has forced traders to rewrite their risk models, after previous ones assumed that price slides could be halted at zero.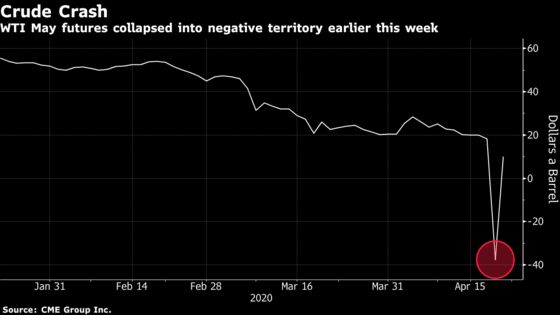 ICE said it was "constantly monitoring market developments, and should prices drop precipitously and get close to zero this change will be accelerated accordingly during the trading session."
Global benchmark Brent crude trades primarily on the ICE exchange, while U.S. benchmark WTI trades mainly on CME's Nymex exchange.