Oil Gets Extra Boost From Relaxed Producers on March Past $85
(Bloomberg) -- Oil trading at $85 a barrel hasn't got producers excited just yet.
Despite hedging frantically when prices topped $80 a barrel earlier this year, this time around producers have been less inclined to sell forward their output, removing a natural break on prices. With fewer sellers in the market and consumers -- such as airlines -- hedging their consumption against rising prices, Brent for December 2020 rose to $77 a barrel this week, the highest level since 2015.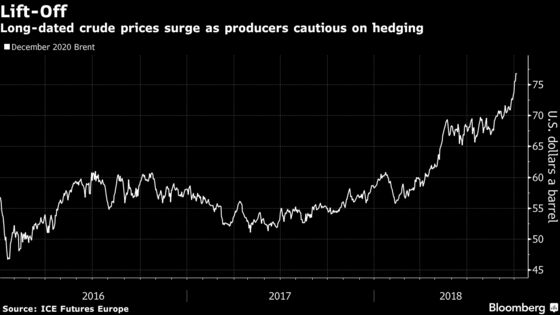 Crude has plowed higher in recent sessions, gaining almost $8 a barrel since the start of last week. Many traders have been surprised by the lack of selling pressure as Brent surged through $80 and $85 a barrel, with banks from Goldman Sachs Group Inc to Investec Plc quick to point out that some of the natural selling from producers has been absent.
"We have the feeling that producers are now generally more comfortable that higher prices are not just a blip," said Callum MacPherson, head of commodities at Investec, in London. "There is a tendency to hold off from hedging."
Earlier in the year, global benchmark Brent's climb to near $80 a barrel coincided with a surge to a record in short positions held by producers, merchants and consumers, according to ICE Futures Europe data. Since then, those positions have shrunk by 20 percent and more, and have climbed only fractionally in recent weeks, despite crude's rally. Another gauge of producer hedging -- short positions of swap dealers, such as banks, in U.S. benchmark West Texas Intermediate -- has also fallen about 20 percent since May.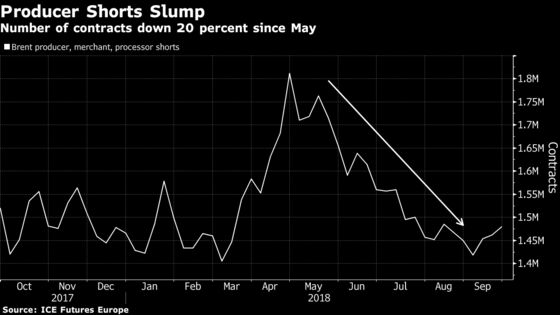 Producer hedging hasn't been totally absent from the market, though, MacPherson said, noting that some producers have been tending to buy puts to limit any possible downside, rather than using more complex options structures. That's a sign of growing comfort about higher prices, he added.
Banks from Goldman Sachs to Bank of America Merrill Lynch and JPMorgan Chase & Co. have all suggested in recent weeks that prices above $80 a barrel may be here to stay until the end of the year. That has meant that consumers have also been busy protecting against prices rising even higher, buying longer-dated contracts and thereby lifting the back of the futures curve.
"Driving the recent run-up in oil prices has been one-way financial flow from both consumers and investors," Goldman Sachs analysts including Jeff Currie wrote in a report this week. There is "no producer selling expected until year end, which leaves risks to the upside."