Oil Futures Investors and Crude Cargo Traders Diverge on Prices
(Bloomberg) -- As an aversion to risk assets weakens futures of Brent crude, the market for actual cargoes of oil is showing strength.
This divergence between futures and physical prices is being reflected in what's known as the Brent-Dubai EFS, which shows that contracts in London on the Intercontinental Exchange Inc. have slumped to the weakest level since 2010 versus the benchmark for cargoes from the Middle East.
That's because a lack of firm details of about a possible deal that would resolve trade differences between the U.S. and China has created a hurdle for risk assets including stocks and Brent futures that are typically part of large investment portfolios. In the niche physical market for oil, reflected in Dubai crude's price, supplies are crimped due to American sanctions on Iran and Venezuela and Saudi Arabia-led output cuts by OPEC and its allies.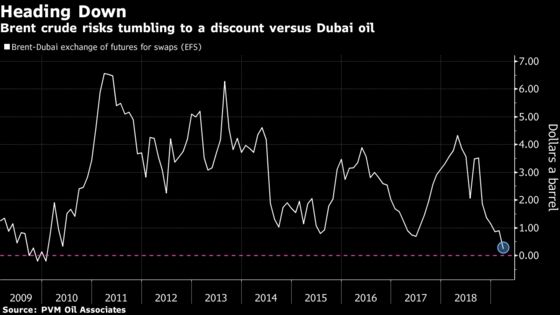 The front-month Brent contract was only 23 cents a barrel higher than Dubai swaps on Tuesday, data from PVM Oil Associates show. That's the smallest premium since June 2010 and down from an average of 50 cents last month and $2.60 in 2018.
This EFS, also known as exchange of futures for swaps, is used by traders of oil cargoes to assess the affordability of shipments from the Atlantic Basin versus those from the Middle East. And Brent weakness may prompt more physical flows from Europe's North Sea as well as Africa to Asia at a time when supplies from the Persian Gulf region are being squeezed due to OPEC's cuts.