Oil Rises With Signs of Economic Recovery Buoying Demand View
(Bloomberg) -- Oil rose the most in nearly two weeks, tracking a move in stronger equities, as economic data from the U.S. to Europe and Asia signaled a flicker of life in languishing demand.
U.S. manufacturing expanded in July at the fastest pace since March 2019, while factories across the euro area posted their first expansion in one-and-a-half years. In China, a private gauge showed the country's factory activity grew at a faster pace in July than at any point since January 2011. Equities strengthened with the S&P 500 Index rising as much as nearly 1%.
"If economic activity continues to strengthen, that subsequently will lead to higher demand, and that's going to be supportive for the market," said Gene McGillian, vice president of market research at Tradition Energy.
Yet the deal between the Organization of Petroleum Exporting Countries and its allies to ease production cuts this month is keeping oil prices from rallying higher. The group and its partners will pump about 1.5 million barrels a day more in August than in July. Russia already lifted its production slightly last month.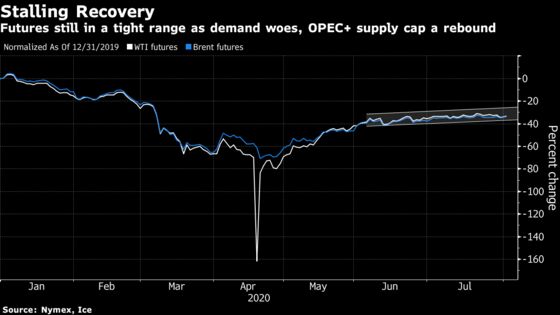 Crude futures are still struggling to rebound significantly above $40 a barrel in the wake of a gloomy demand outlook with global coronavirus cases topping 18 million.
There's growing evidence that the recovery in oil demand is running out of steam, according to JPMorgan Chase & Co. analysts. With travel indicators appearing to have stalled, there's a chance global oil consumption could find a new normal at about 90 million barrels a day, according to the report, down from about 100 million previously.
Marathon Petroleum Corp. has seen weaker gasoline demand in the Southwest the last few weeks with the resurgence of Covid-19, executives said during an earnings call on Monday.
"The infection rates are going up in a lot of different places in the United States again, renewing the worries about petroleum demand as more restrictions get put on," which is weighing on the market, said John Kilduff, a partner at Again Capital LLC.
Prices
West Texas Intermediate for September delivery rose 74 cents to settle at $41.01 a barrel
Brent for October settlement added 63 cents to end the session at $44.15 a barrel
A fresh shot of stimulus in the U.S. may improve the demand outlook, but Democrats and Republicans remain at an impasse over a virus relief bill. President Donald Trump said on Monday that he may take executive action to impose a moratorium on evictions with talks on a new virus relief plan stalled in Congress. The White House is also exploring whether the president can act on his own to extend enhanced unemployment insurance payments.
"The stimulus package is stalled at the moment, but there's a sense in the market that something will come through sooner rather than later," Kilduff said.
Meanwhile, a Bloomberg survey showed that OPEC's crude production rose last month as Persian Gulf members phased out extra supply cutbacks. Saudi Arabia, the United Arab Emirates and Kuwait restored the additional output taken offline in June.
Other oil-market news
Seven & i Holdings Co. agreed to buy Marathon Petroleum's Speedway gas stations for $21 billion, betting that an expanded U.S. footprint will deliver growth amid the uncertainty of the pandemic.
Isaias could cause $1.5 billion in losses as it picks up speed and strength, likely becoming a hurricane before hitting the Carolinas and posing the second tropical threat to New York in a month.
Indian sales of diesel -- the lifeblood of the Asian giant's economy -- appear to have fallen sharply last month as several provinces imposed small-scale lockdowns to curb record daily infection rates.