Oil Retreats as Surprise Jump in U.S. Stockpiles Hints at Glut
(Bloomberg) -- Oil retreated for the second day in a row after U.S. crude stockpiles ballooned, casting a shadow over OPEC's efforts to avert a global glut.
Futures in New York closed 0.6 percent lower on Wednesday after the U.S. Energy Information Administration said domestic oil inventories grew by 7.07 million barrels, exceeding every estimate in a Bloomberg survey. A larger-than-expected draw-down in refined products eased some fears about demand but wasn't enough to bolster the market.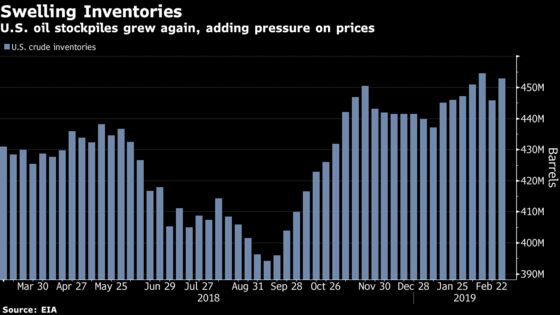 Crude prices rallied more than 25 percent through mid-February as the Organization of Petroleum Exporting Countries and its partners curbed output. But the rally's stalled since then, as traders fretted about a fragile global economy and the U.S.-China trade spat. The Organization for Economic Cooperation and Development trimmed its growth outlook earlier in the day.
"We're still in this place where we're kind of like an airplane circling, waiting to see what happens," said Ellen Wald, president and Transversal Consulting, an energy and geopolitics consultancy in Jacksonville, Florida.
The result was a split decision for the world's two major oil markets. West Texas Intermediate for April delivery slipped 34 cents to $56.22 a barrel at the close of trading on the New York Mercantile Exchange. Global benchmark Brent crude was at $65.99 a barrel for May settlement, up 13 cents, on London's ICE Futures Europe exchange.
Brent's premium over WTI for the same month was $9.37 a barrel.
U.S. crude stockpiles fell more than expected in last week's EIA report, but the decline was at least partly due to fog that delayed imports in Houston and has since subsided. In the latest data, Saudi shipments more than doubled from the previous period.
Saudi Arabia's energy minister, Khalid Al-Falih, said last week that American inventories are "brimming" and the the OPEC leader is leaning toward extending production curbs beyond June.
Still, stockpiles of gasoline, propane and distillates -- the class of fuel that includes home heating oil -- fell by even more than those for crude rose, according to the EIA. Gasoline futures rose 1.2 percent to $1.7890 a gallon, their highest close since Oct. 30.
"Demand remains pretty strong," said Matt Sallee, a portfolio manager who helps oversee $16 billion in energy investments at Kansas-based Tortoise. "We're starting to get those gasoline inventories worked down, and that's been a big headwind for the market."
See also: For Traders, the U.S. Government Shutdown Finally Ends Friday
Investors are also looking for a breakthrough on U.S.-China trade talks that have dragged on for the past several weeks. While the nations are said to be close to an agreement, American Secretary of State Mike Pompeo said Tuesday that President Donald Trump is ready to walk away unless he secures a "perfect deal."
Other oil market news
Exxon Mobil

 Corp. tumbled more than any other blue-chip stock after boosting spending 24 percent, bucking the cost-cutting trend among rival energy explorers.

Chevron's CEO predicted "very strong" demand this year despite worries about the global economy.
Asia more than doubled its intake of American crude oil last year even as Beijing and Washington were embroiled in a bitter trade war.