Oil Gains With OPEC Compliance Overshadowing U.S. Demand Fears
(Bloomberg) -- Crude futures rose as initial signs that OPEC members intend to comply with promises to curtail production eclipsed fears that a resurgence in coronavirus cases would send demand back to the worst days of the pandemic.
Saudi Arabia commended Iraq for implementing almost all its pledged oil-production cuts, and Nigeria told the kingdom it was committed to hitting its target, in further signs that disputes among OPEC+ members over cheating of quotas are being resolved.
"It's all about risk appetite and the hope of continued demand growth here," said Bart Melek, global head of commodity strategy at TD Securities. Iraq and Nigeria pledging to "to live up to their supply cut commitments made investors comfortable to take a long stance on oil."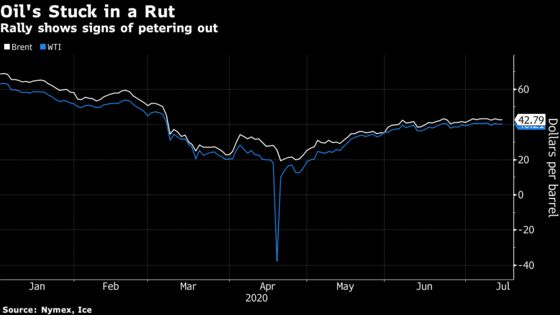 Oil has been stuck in a rut after staging a months-long rally from historic lows in April. A wave of new coronavirus cases sweeping the U.S. has spurred concerns over a recovery in gasoline demand.
"We've been in a market that's been in clear consolidation for quite some time," said Thomas Finlon of Houston-based GF International. "After a considerable rally or selloff, the interesting thing is the market seems to be drawn back to unchanged on the day pretty quickly."
Figures from the American Petroleum Institute showed U.S. crude stockpiles decreased 8.32 million barrels last week, but supplies in Cushing, Oklahoma, rose 548,000 barrels. The market is turning its attention to Wednesday's U.S. Energy Information Administration inventory report.
"If crude oil storage posts a new all-time record, with a build at Cushing thrown in for good measure, I would tend to think the market would trade lower… possibly sharply lower," Bob Yawger, director of the futures division at Mizuho Securities USA, said in a note to clients.
In the longer-term, OPEC expects demand for its crude to rebound next year, surpassing levels seen before the pandemic, as rival producers struggle to revive output. An OPEC+ committee meets Wednesday to discuss easing record supply curbs that have helped the market recover. OPEC+ is expected to stick with plans to taper the cuts from August even as the virus rages in many parts of the world.
Prices:
West Texas Intermediate for August delivery rose 19 cents to $40.29 a barrel in New York
Brent for September settlement gained 18 cents to $42.90 a barrel
The OPEC+ committee will consider whether the alliance should keep 9.6 million barrels of daily output off the market for another month, or taper the cutback to 7.7 million barrels as originally planned. Members are leaning toward the latter option, according to several national delegates who asked not to be identified.
Other oil-market news
Middle East producers are banking on robust demand from Asia for their more sulfurous and dense crude, boosting prices for the dirtier oil even as OPEC+ considers loosening cuts.
The coronavirus pandemic will accelerate Eni SpA's pivot away from conventional refineries to investing in greener facilities.