Oil Hits One-Week High After OPEC+ Hints at Delay to Output Hike
(Bloomberg) -- Oil rose to the highest in a week alongside a broad market rally, drawing support from signs that OPEC+ may delay a planned output increase as well as expectations for a drop in U.S. crude supplies.
U.S. benchmark crude futures extended gains after posting a 2.3% gain on the day after the industry-funded American Petroleum Institute was said to report an over 8-million-barrel decline in crude stockpiles last week. The market also took its cue from stronger equities as millions of Americans headed to vote on election day, while a weakening dollar helped boost the appeal for commodities priced in the currency.
OPEC and its allies will "accelerate" the recovery in oil markets at their next meeting, the group's top official said, in another hint about a potential delay to a production hike scheduled for January. Algeria, which this year holds the OPEC presidency, said that both Saudi Arabia and Russia were pressing fellow members to prolong the current oil-supply cuts into next year.
"They can't afford to let prices slip beyond where they were here recently," said Josh Graves, senior market strategist at RJ O'Brien & Associates LLC. Meanwhile, "there's still a lot of optimism that oil in the long-term will be OK, so traders are looking at buying any kind of significant dip in the market."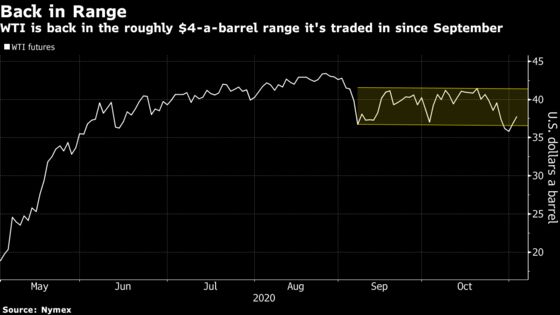 Americans are voting in a presidential election that could reshape U.S. policy on a slew of energy-related areas such as fracking and how to address climate change. Meanwhile, a rising coronavirus case count in Europe is raising new threats to oil's spotty demand recovery, with Italy and Sweden laying out new curbs. Demand is recovering "at a very slow speed," according to the Organization of Petroleum Exporting Countries' Secretary-General Mohammad Barkindo.
"Lockdowns and economies around the world seem to be getting into another wave of Covid-related stress," said Stewart Glickman, energy equity analyst at CFRA Research. "If you get another wave that lasts through the winter season potentially, then that's just another nail in the coffin for demand."
The API report also showed a 577,000-barrel decline in distillate stockpiles, while gasoline supplies rose by 2.45 million barrels last week. Inventories at the storage hub in Cushing, Oklahoma, also rose last week, the report said.
"It's a big crude draw and not an obnoxious gasoline build," said Tom Finlon of GF International. "We're still continuing to chip away at what had been a glut. Distillate inventories are clearly going in the right direction."
Prices
West Texas Intermediate for December delivery traded at $38.18 as of 4:47 p.m. in New York after settling at $37.66 a barrel
Brent for January settlement advanced 74 cents to end the session at $39.71 a barrel
The forward curves for both Brent and WTI showed some underlying strength beyond the rally in headline prices. The spread between Brent's nearest contracts narrowed to its tightest contango structure in a week, and WTI's prompt spread also firmed. Other areas of the market are also rallying, with traders pointing to the prospect of extended OPEC+ production curbs as a major driver in a surge in fuel oil prices.
Other oil market news:
Diamondback Energy Inc. hasn't participated in the latest wave of shale mergers and acquisitions, and its chief executive officer told investors the company will be just fine on its own.
China is providing a lifeline to the Persian Gulf's OPEC crude exporters as prices slump. The world's biggest oil importer is taking more from them than it did before the pandemic and the subsequent output cuts, making it unique among the group's major customers.
Saudi Aramco left its third-quarter dividend unchanged at $18.75 billion even as it failed to generate enough cash to cover the payout and reported a 45% drop in profit.