Oil Surged Most Since June in Wake of Shrinking U.S. Supplies
(Bloomberg) -- Oil jumped the most since early June as shrinking crude stockpiles and dovish signals from the Federal Reserve buttressed hopes for an economic recovery.
Futures in New York surged 4.9% on Wednesday to the highest level in nearly two weeks after U.S. government data showed crude inventories fell over 4 million barrels last week to the lowest since April. Meanwhile, the Fed signaled it will keep interest rates near zero for at least three years to help the American economy recover from the coronavirus pandemic.
Signs from the United Arab Emirates that it will make up for pumping too much oil in the past two months also boosted optimism over tightening supplies. Abu Dhabi National Oil Co., which produces almost all the UAE's crude, has indicated to refiners and traders that reductions in oil shipments for October will continue through November.
"All indications are that the Fed is going to keep rates low for some time, giving the economy time to mend and that's going to be supportive for the recovery in oil demand," said Gary Cunningham, director of market research at Tradition Energy.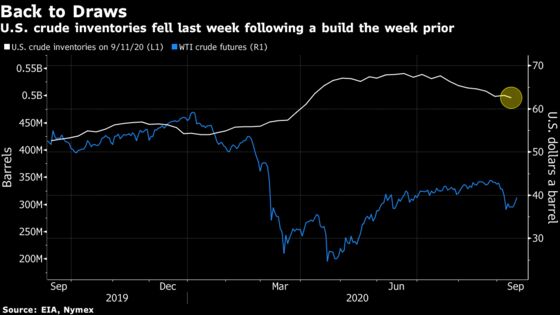 Oil's rebound from April's price rout paused in the beginning of September amid a persistent pandemic that crippled demand. But prices are recouping some of those losses, with futures in New York closing above $40 a barrel. Steps the Organization of Petroleum Exporting Countries and its allies take to mitigate supply concerns may also boost the upward momentum. A committee made up of some ministers from OPEC+ alliance will meet on Thursday to discuss if the group's production curbs are enough to prevent a glut.
The decline in U.S. oil inventories, "along with rising demand suggests that the market is putting to rest much of the concern that demand is going in reverse," Bart Melek, head of global commodity strategy at TD Securities, said in a note.
Prices
West Texas Intermediate for October delivery climbed $1.88 to settle at $40.16 a barrel in New York
Brent for November settlement gained $1.69 to end the session at $42.22 a barrel
Still, despite the crude stockpile draw, Energy Information Administration data on Wednesday also showed distillate stockpiles are holding at the highest seasonal level in decades.
"There's still not much that's really changed between yesterday and today on the demand front, it's still pretty weak demand," said Josh Graves, senior market strategist at RJ O'Brien & Associates LLC. "Traders should be very cautious whether this is a genuine rebound from the initial selloff that we had."
Other oil-market drivers
BP Plc offered a glimpse of the profitability of its huge and secretive trading arm, suggesting it makes annual returns of as much as $2.5 billion.
Big oil traders are rushing to book tankers with a view to storing a glut of refined petroleum like diesel and jet fuel on the world's oceans.
Iraq is exporting more crude so far in September than its daily average last month, seeming to put compliance with the country's OPEC+ production limit further out of reach.