Brent Crude Tumbles Below $40 in Wake of Souring Demand Outlook
(Bloomberg) -- Crude in London tumbled below $40 a barrel for the first time since late June and futures in New York also plunged with faltering demand and weaker equities undermining market sentiment.
Both Brent and West Texas Intermediate crude futures slid on Tuesday to their lowest levels in nearly three months. Asia's stalling demand recovery, the end of the U.S. summer-driving season and increased supply from OPEC and its allies signal a bleak short-term outlook for oil prices. Both benchmarks are trading in a pattern known as contango, where the most immediate prices are far below those for supply contracts in later months.
"The lack of fiscal support is starting to spook the markets a little bit," said Bill O'Grady, executive vice president at Confluence Investment Management in St. Louis. "It's showing up in oil with fears that you're going to reduce demand coupled with stories circulating that OPEC's discipline is less than ideal."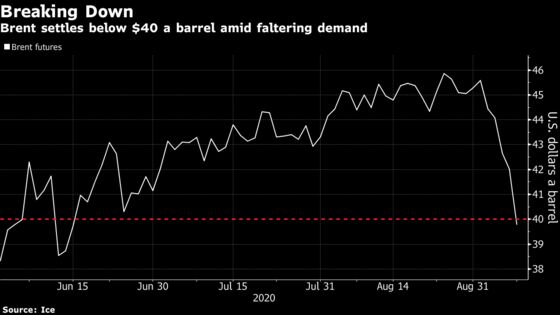 Market signals point to more downside risk for oil prices. The difference between the two nearest December contracts -- a closely watched gauge of market strength -- weakened for both Brent and WTI to their largest contango structure since May, pointing to concerns of oversupply.
The widening contango combined with a slump in tanker rates, may also incentivize traders to seek floating storage. Storing crude at sea has become profitable again for northwest Europe and the Mediterranean, shipbroker and exchange data compiled by Bloomberg show. At the same time, oil traders have begun seeking out available U.S. onshore storage, according to The Tank Tiger, an independent brokerage and consulting clearinghouse.
Brent crude's break below $40 a barrel follows two months of the global oil benchmark holding largely between $42 and $45 a barrel. The coronavirus pandemic is still raging and Bank of America Merrill Lynch said it will take three years for global oil demand to recover from Covid-19, assuming there is a vaccine or a cure.
"These last few sessions are pretty significant, having broken out of that equilibrium range," said Andrew Lebow, senior partner at Commodity Research Group. "What the market's telling us is we're not drawing as much as many analysts had forecast just as recently as earlier this month."
Prices
Brent for November settlement declined $2.23 to end the session at $39.78 a barrel.
West Texas Intermediate for October delivery fell $3.01 to settle at $36.76 a barrel.
Meanwhile, only four of 10 Asian refiners surveyed by Bloomberg said they would be trying to buy more Saudi Arabian crude after the kingdom cut pricing for October as consumption remained below pre-coronavirus levels.
Adding to worries over China's recovery hitting a roadblock, tensions are rising between the U.S. and the world's largest importer. U.S. President Donald Trump said that he intends to curb the U.S. economic relationship with China, threatening to punish any American companies that create jobs overseas and forbid those that do business in China from winning federal contracts.
"The lack of volatility has led to investors longing for opportunities to express risk," RBC Capital Markets analysts including Michael Tran said in a note. "Softening physical oil fundamentals suggested that it was only a matter of time until a trade would be exacerbated or crowded quickly, as managed money piled into the trade, resulting in today's disorderly pullback."
Other oil-market drivers
Russia is preparing to offer tax breaks to boost oil-service companies through April 2022, while the country continues to curb crude output amid the OPEC+ deal, Energy Minister Alexander Novak said.
Cargoes of Nigerian crude are building up again off the ports of Gibraltar and Ceuta in the western Mediterranean, where one vessel has been idling for more than three months, perhaps indicating that the West African country is once again struggling to sell all its exports.
Transocean Ltd. bondholders Pacific Investment Management Co. and Whitebox delivered a notice of default and moved to demand immediate repayment of debt by the world's biggest owner of deep-water oil rigs.
Citgo canceled crude purchases for its Lake Charles refinery for September delivery, according to a person familiar with the matter, as the facility potentially faces many more weeks of downtime due to Hurricane Laura.