Oil Sinks With U.S. Supplies Rising and Iran Talks Set to Resume
(Bloomberg) -- Oil fell by the most since in nearly two months after a report showed American crude inventories rising and Iran said nuclear talks are set to resume this month. 
Futures in New York fell 3.6% on Wednesday and extended losses after the market's close following Iran's announcement that talks would resume on Nov. 29. A nuclear deal is seen as the first step toward potentially lifting U.S. sanctions on Iranian oil. Meanwhile, U.S. oil supplies rose to the highest since August, according to a government report. 
OPEC+ meets virtually Thursday to review output plans. The U.S. has called on the group to raise supplies faster to quell high domestic gasoline prices. But it's questionable as to whether the group will comply,  given rising stockpiles and this week's cooling crude prices. 
"It's doubtful that OPEC will want to pull the trigger on increasing supply just because the U.S. is uncomfortable with gasoline prices politically," said Bart Melek, head of commodity strategy at TD Securities.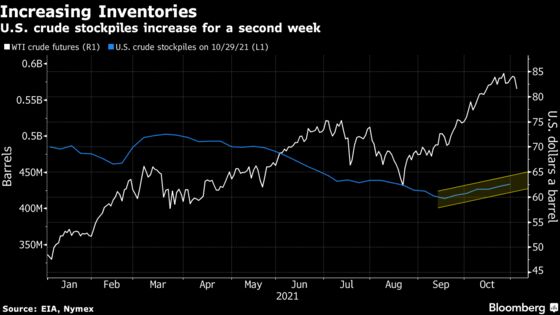 Crude prices, alongside other commodities, have soared this year as economies recover from the pandemic, boosting consumption. Despite the pressure from the U.S. and other importers, the cartel is expected to stick to a plan to raise output by a modest 400,000 barrels a day. Azerbaijan on Wednesday joined a roster of OPEC+ nations that have said a modest increase would be enough. 
U.S. President Joe Biden blamed OPEC and its allies for inflationary pressure, while Secretary of State Antony Blinken urged his counterpart in the United Arab Emirates to increase production. Speculation increased that if OPEC+ doesn't accelerate the pace at which it's adding production, the U.S. -- possibly in coordination with other countries-- may release crude from strategic reserves. 
Prices:cp9
West Texas Intermediate crude for December delivery fell $3.05 to settle at $80.86 a barrel in New York
Brent for January settlement dropped $2.73 to $81.99 a barrel
The Energy Information Administration data on Wednesday showed U.S. crude inventories rose for a second week to 3.29 million barrels. Additionally, production rose by 200,000 barrels a day to the highest since before Hurricane Ida hit U.S. Gulf of Mexico production at the end of August. However, gasoline inventories fell to the lowest since November 2017 with demand outpacing where it stood from 2015 to 2018 at this time of year. 
Related coverage:
OPEC+ is heading for a politically consequential showdown with President Joe Biden, as Saudi Arabia and its allies must choose whether to heed American demands for more oil.
Perhaps the first sign that the upcoming increase in transatlantic flights is having an impact on jet fuel demand: a whopping 1.75 million-barrel decline in U.S. inventories, reported in Wednesday's stockpile report. 
China eased a diesel crunch after government intervention to boost supply, averting a full-scale crisis seen in coal and gas.
U.K. gasoline prices rose to a record in October, in a further blow to consumers being hit by soaring energy costs and inflation.