Oil Slides With New Virus Strain Threatening Global Movements
(Bloomberg) -- Crude cratered the most in six weeks as a new strain of the coronavirus in the U.K. is threatening additional lockdown measures across Europe and reducing global travel routes.
Both U.S. crude futures and the global benchmark Brent fell nearly 3% on Monday. More than 16 million Britons are now required to stay at home after a full lockdown came into force in London and the southeast of England. Travel to the U.K. was suspended in several parts of the world, from Canada to Hong Kong.
The stricter lockdown and new Covid-19 mutation are stoking concerns that more parts of the world may also face renewed movement restrictions, sharply curbing a recovery in global consumption. In the U.S., New York Governor Andrew Cuomo said he believes the new strain is already circulating in New York.
"Oil is being driven by negative sentiment and fundamentals," said Harry Tchilinguirian, head of commodity markets strategy at BNP Paribas SA. "New severe restrictions could impact mobility of people and goods between the U.K. and Europe."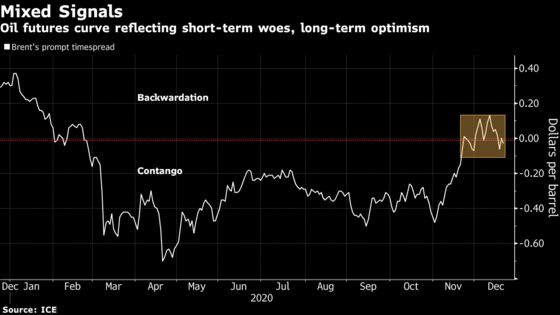 Crude in New York has rallied more than 30% since early November in part due to a series of vaccine breakthroughs, but signs of additional stay-at-home measures has led to not only a decline in headline prices, but also a weakening forward curve. Both Brent and West Texas Intermediate crude's front-month spreads are trading in a deeper contango structure, a signal of oversupply.
"There is uncertainty around petroleum demand due to a resurgence of the virus," said Gary Cunningham, director at Stamford, Connecticut-based Tradition Energy. But at the same time, the market "was overbought last week from the euphoria with the vaccine distribution."
Meanwhile, the House and Senate are set to vote on a roughly $900 billion U.S. pandemic relief bill that would be the second-biggest economic rescue measure in the nation's history.
Prices
West Texas Intermediate for January delivery, which expires Monday, fell $1.36 to settle at $47.74 a barrel in New York

The February contract dropped $1.27 to end the session at $47.97

Brent for February slid $1.35 to settle at $50.91 a barrel
Physical oil prices are also cooling as Asian refiners ease purchases after an earlier-than-usual buying spree. Abu Dhabi's Murban crude was sold last week on the spot market below its official price for the first time since August, while differentials for Russia's ESPO and Urals have also slumped.
OPEC+ will react faster to changes and take a more hands-on approach with the oil market thanks to its accelerated schedule of monthly meetings. Russia intends to support a further increase in OPEC+ production at the group's meeting in January. The country is said to favor an increase of 500,000 barrels a day, the maximum supply increase allowed by the accord that emerged from the group's talks in December.
Other oil-market stories
Investors expecting an end-of-year rebound in the oil and gas industry could be in for a disappointment, if figures published by Royal Dutch Shell Plc are any indication.
Diamondback Energy Inc. rounded off a tumultuous year for the U.S. shale industry with the acquisition of two rival producers for about $1.4 billion that will expand the company's position in the Permian Basin.