Oil Downside Risk at Four-Year High on OPEC Inaction Fears
(Bloomberg) -- Energy traders are bracing for an OPEC-induced sell-off like it's 2014 all over again.
Investors are terrified that major producers are about to pull the rug out from under prices at their Dec. 6 meeting, a replay of four years ago when the group elected to forgo output curbs. Options show a scramble for protection in the United States Oil Fund LP, ticker USO, which aims to track the price of West Texas Intermediate crude futures.
Oil skew -- the difference in the implied volatility of puts versus calls -- "has surged to the highest level since 2014 on rising put demand as investors see elevated downside risk in the near-term," Mandy Xu, chief equity derivatives strategist at Credit Suisse, wrote in a note Monday. "Recall oil prices, which had already fallen 29 percent going into the November 2014 OPEC meeting, fell another 10 percent the day after the meeting and were down 25 percent the month after as OPEC disappointed on supply cuts."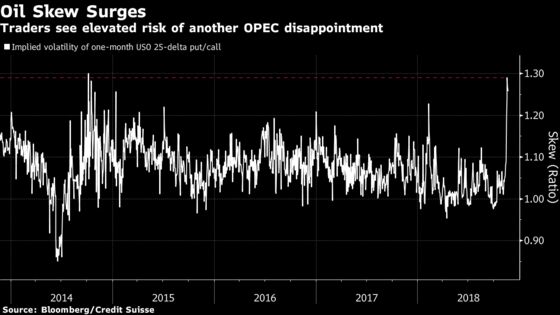 This time around, WTI futures have tumbled nearly 30 percent since early October before recovering to around $57 per barrel. Firmer supply than anticipated due to waivers granted on Iranian oil exports, as well as concerns about demand, have weighed on prices, and uncertainty about the response of OPEC+ (the cartel and certain non-members including Russia) lingers.
Xu recommends buying December put spreads that capture the event to hedge against another OPEC-fueled oil sell-off.