Oil Consumers Help Long-Term Prices Defy Dip Toward Bear Market
(Bloomberg) -- Not every oil price is falling.
While the nearest Brent futures contract is down more than 4 percent this month, crude for delivery in late 2021 and 2022 has risen during the same period. The move has been spurred by consumers of oil -- notably shippers and airlines -- locking in their forward supplies as spot prices teeter on the brink of a bear market.
"A lot of people are looking at the 2020, 2021, 2022 horizon," says Bjarne Schieldrop, chief commodities analyst at SEB AB in Oslo. "We've seen customers sitting back and seeing the price move up, and finally they see a decent sell-off and there's been a big interest to pick it up."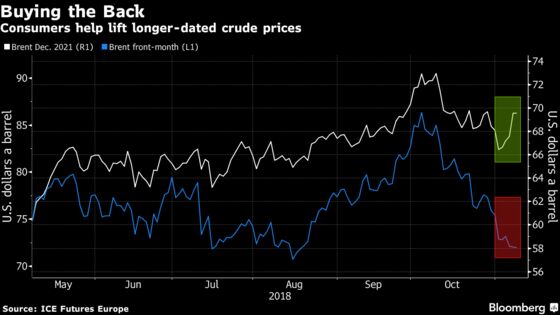 The hedges against higher future prices prompted bumper volumes of trading for December 2021 Brent on Wednesday. The contract -- the most actively traded for that year -- added $2 a barrel, with the equivalent of almost 10 million barrels changing hands. While trading for contracts through 2020 is already well under way, hardly anything else is trading for 2021.
Near-term crude prices have been weighed down by surging U.S., Saudi Arabian and Russian production, alongside U.S. President Donald Trump's decision to grant some nations waivers to U.S. sanctions on Iran. That has given consumers the chance to jump in and guarantee their forward supplies at lower levels as fuel costs have spiraled this year.