Oil Climbs With Economic Data Warding Off Gloomy Demand Signals
(Bloomberg) -- Oil rose to its highest in more than a week after economic data from China to the U.S. fueled optimism that factories are getting back to work.
U.S. benchmark crude futures gained 2.7% Tuesday in New York, alongside a rally in U.S. and European equities. Chinese retail sales rose for the first time this year in August, while industrial production expanded more than expected. In the U.S., manufacturing in New York state expanded in September at the second-fastest pace since 2018.
Still, the International Energy Agency was the latest to join the chorus of bearish views on oil demand, following pessimistic calls this week from BP Plc, Trafigura Group and OPEC. The market outlook has grown "even more fragile" with a resurgence of the pandemic, the IEA said Tuesday.
Despite how "depressing the IEA report was, there's hopeful signs this morning about positive sentiment in the manufacturing sector," said John Kilduff, a partner at Again Capital LLC. "Beyond transportation, you really need industrial demand to kick in, factories to be hopping, for there to be a market increase in consumption."
The industry-funded American Petroleum Institute reported that domestic crude inventories declined last week by 9.52 million barrels, according to people familiar. That compares to expectations for a roughly 2 million barrel build, a Bloomberg survey shows. The report, which comes ahead of U.S. government data Wednesday, showed gasoline stockpiles increasing and distillate supplies falling.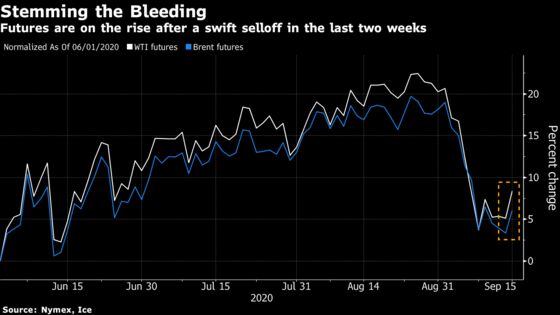 Crude futures are retracting some of their recent losses following a swift descent in the first two weeks of September, which took global benchmark crude futures below $40 a barrel. Market participants are searching for signs of when consumption may return to normal, but the road to recovery has been spotty as the pandemic flares up around the world. In the meantime, fuel demand remains depressed, with U.S. gasoline demand tumbling in the first week of September and outpacing declines from the same time last year.
Oil is likely "to return to the price regime of June-August while waiting for stronger signs of oil demand recovery," said Harry Tchilinguirian, head of commodity markets strategy at BNP Paribas SA in London. "Naturally, OPEC+ producers in this scenario must stay the course in terms of their voluntary supply cuts."
Prices
West Texas Intermediate for October delivery rose to $38.40 a barrel as of 4:56 p.m. in New York after settling at $38.28 a barrel
Brent for November gained 92 cents to end the session at $40.53 a barrel
Still, offering a starkly more bullish outlook than some of its rivals, Vitol Group said inventories have been falling sharply and will continue to decline this year.
"You can't lose sight of the fact that production has been curtailed," Vitol Chief Executive Officer Russell Hardy said in an interview during the Platts APPEC 2020 conference. A lot of stock draws are expected to come from refineries digesting what they had amassed during the frenzied buying of cheap oil, he said.
Other oil-market drivers
Premier Oil Plc and Chrysaor Holdings Ltd. have held preliminary talks about a potential deal that would bring together two of the largest U.K. oil and gas producers, according to people with knowledge of the matter.
Lonestar Resources US Inc., one of a string of U.S. shale oil and gas producers struggling amid low energy prices and high debt loads, entered into a restructuring agreement with lenders that envisions a Chapter 11 filing.
Hurricane Sally is threatening to bring extreme flooding that could inflict $5 billion in damage and losses across Mississippi, Alabama and the Florida Panhandle, even as the storm's winds drop ahead of landfall.