Oil Around $50 Means Energy Is a Buy for at Least One ETF Investor
(Bloomberg) -- At least one investor appears to be betting that oil prices have hit the bottom of the barrel.
The $1.5 billion iShares Global Energy ETF, or IXC, took in $166 million on Tuesday, the most since May and its first day of inflows since September. The cash surge seems to have come from one investor who bought more than 5 million shares worth close to $170 million on Monday morning. About 84 percent of the fund's portfolio is in oil and gas companies, with Exxon Mobil Corp. and Chevron Corp. comprising a combined 23 percent.
"I would call it responsive opportunistic buying," said Bloomberg Intelligence analyst Mike McGlone. "Maybe it's not a bottom, but it's likely reflecting the significant backup on prices and potential good value with WTI near $50."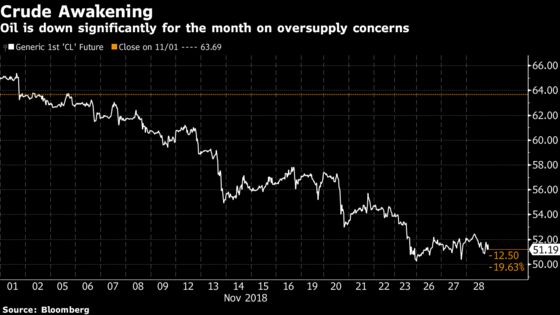 Oil slid into a bear market recently on concerns over record output from Saudi Arabia, rising trade tensions and unexpected sanctions waivers that the U.S. handed out for Iranian oil. Many analysts expect the Organization for Petroleum Exporting Countries to announce production cuts to halt the slump in prices, even as U.S. President Donald Trump pressures the them to keep the pumps flowing.
With West Texas Intermediate crude down 35 percent since the beginning of October, the current price of $50 has attracted buyers, according to Josh Lukeman, head of ETF market making for the Americas at Credit Suisse Group AG. Looking at flows into all U.S.-listed energy ETFs, November is on track to be the first month of inflows since June.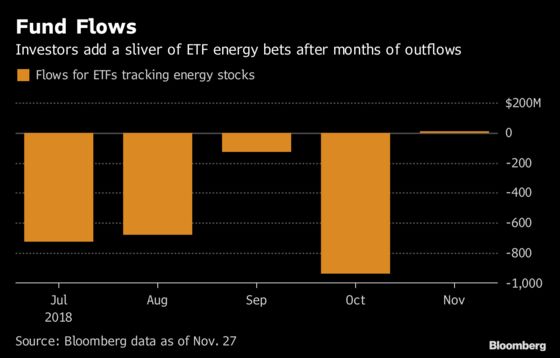 WTI futures fell as much as 2.9 percent Wednesday after the Energy Information Administration reported nationwide crude stockpiles rose by 3.6 million barrels last week as imports rose. Traders are now focusing on talks between Russian President Vladimir Putin and Saudi Crown Prince Mohammed bin Salman at the G20 summit, which is set to take place ahead of OPEC's policy meeting in Vienna next week.