Offshore Yuan Smashing Support Level Brings Record Low in Sight
(Bloomberg) -- The offshore yuan is moving closer toward a record low after breaking through a key level.
The offshore currency fell as low as 6.9450 a dollar on Friday, weakening rapidly past the 6.92 per dollar level it had held below for the first three days of the week. It steadied after Reuters reported the central bank will support the currency and last traded at 6.94.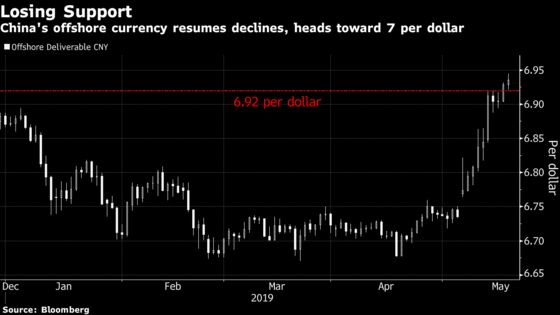 A stronger dollar and the Trump administration's threat to blacklist Huawei Technologies Co. from buying essential components are renewing pressure on the yuan, and widening its discount to the onshore exchange rate. China on Friday signaled a lack of interest in resuming trade talks with the U.S. under the current threat to escalate tariffs, and said stimulus will be stepped up to buttress the domestic economy.
The offshore yuan dropped 0.16% per dollar at 3:40 p.m. in Hong Kong, while the onshore rate was 0.4% lower at 6.9107. The PBOC will use foreign exchange intervention and monetary policy tools to make sure the yuan does not weaken past 7 per dollar in the immediate term, Reuters reported, citing three unidentified people familiar.
The offshore currency has tumbled 2.9% this month to be one of the world's worst performers. Its low of 6.9895 was reached in January 2017. The onshore rate has declined for a 13th day against a basket of trading partners' currency on Friday, the longest losing streak on record.
"Markets continue to fret about the impact of the escalation in trade tensions," said Mitul Kotecha, a senior emerging-markets strategist at Toronto Dominion Bank. "Both the U.S. and Chinese sides appear to be digging in their heels, suggesting little chance of any resolution soon. I think 7 will be broken unless there is any progress on a deal."