Odey's Shrinking Hedge Fund Exposes a Pile of Illiquid Assets
(Bloomberg) -- Crispin Odey's long decline is exposing a new risk for the investors who are left: as his troubled money pool gets smaller, a larger slice is in hard-to-sell holdings.
After a flood of redemptions and losses, the share of unquoted securities in his main fund jumped to almost 25% of its long equity holdings as of January, according to an investor document seen by Bloomberg. That's up from 16% in November when Odey started disclosing the figures.
The concentration has come down again since as the fund surged 45% so far this year on bets against government bonds, according to a person with knowledge of the returns. The strategy is highly leveraged and historically alternated between big gains and losses.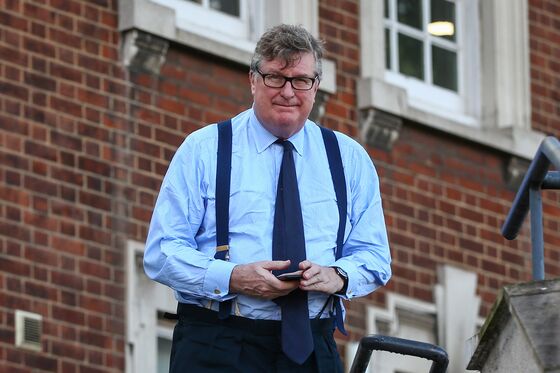 While it's not unusual for a hedge fund like Odey's to hold higher concentrations of unlisted assets than regular funds, the increase comes at a time when investors in Europe are acutely aware of the risks of illiquidity. Several high-profile money managers from Neil Woodford to H2O Asset Management froze funds in the past years when they couldn't meet redemptions.
For Odey, who is currently fighting sexual assault charges that have clouded his future as a money manager, there's a silver lining: he may be able to hold on to the assets because, by now, most of the money left in the fund is his own, according to a person familiar with the matter.
A spokesman for Odey Asset Management declined to comment.
The fund in question -- Odey European Inc. -- was once the proud flagship of his firm, with $1.8 billion in assets at its peak in 2015. But after losing money in five of the past six calendar years, it had shrunk to 93 million euros ($113 million) as of January, leaving it with a relatively large proportion of assets that may be difficult to sell. Assets have rebounded to about 125 million euros since then, the person said.
Odey runs other pools as well -- a total of $777 million of the firm's $3.3 billion in assets as of the end of last year -- but the unquoted holdings are concentrated in the Odey European fund.
The fund mainly wagers on or against liquid stocks, bonds or currencies, but it also holds a number of unlisted equity investments. Those include positions in Big Technologies Ltd. that amounted to 12.5% of the fund's notional exposure as of January. That company's subsidiary Buddi makes electronic tracking and mobile alarm systems, and is planning to go public, the Telegraph has reported. Odey took a multimillion-pound stake in Buddi in 2012, according to media reports at the time.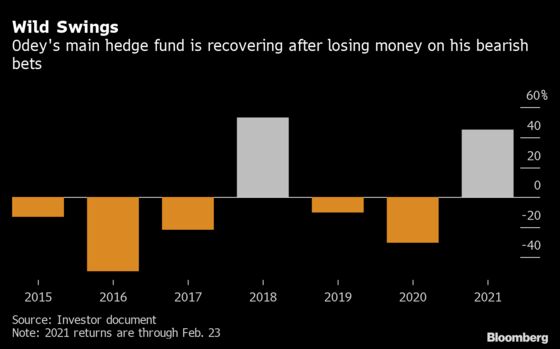 Another 6.3% of the fund's net asset value was invested in a fund run by Odey's colleague Henry Steel that makes concentrated bets in natural resources. Odey also had an investment in Oxford Nanopore Technologies, a developer of technology for molecular detection and analysis once backed by Woodford, according to the fund's 2019 annual report.
Odey isn't alone in venturing into unlisted assets in search for yield. Pushed into a corner by ultra-low interest rates and the rise of passive investing, money managers have increasingly sought an edge outside the large public markets. The gamble has come to bite a number of them when faced with redemptions, turning illiquid fund holdings into one of the biggest worries for investors.
Woodford, one of Britain's most famous stock pickers, froze withdrawals from his flagship equity fund in 2019 and eventually shuttered his firm. A global macro fund run by H2O saw billions of dollars in withdrawals over holdings of unrated bonds. Swiss asset manager GAM Holding AG was thrown into disarray after it froze some funds following the suspension of star bond manager Tim Haywood.
While those problems have been concentrated in funds that promise daily liquidity, hedge funds are different because they typically allow investors to pull money less frequently -- in Odey's case, they can redeem twice a month. That doesn't mean hedge funds are immune to liquidity squeezes. During the financial crisis, dozens gated investors when they couldn't sell assets, often putting the most illiquid holdings into so-called side pockets for years.
Odey has never gated investors. What's more, as the largest shareholder in his flagship, he may not have to sell the unquoted securities even if more outsiders pull. But for those who have stuck with the fund, the holdings add to what's already been a stomach-churning up and down over the past years.