Odey's Main Hedge Fund Surges More Than 100% in Epic Rebound
Crispin Odey's hedge fund is having a banner year that's just got even better after his multi-year bet on Oxford Nanopore Technologies Plc soared in one of the U.K.'s best-ever market debuts.
The Odey European Inc. fund surged more than 100% through Sept. 29 this year, according to a person with knowledge of the matter, who asked not to be identified because the information is private. That doesn't yet include all of the potential gains from its Oxford Nanopore holding after its listing on Thursday.
The flagship fund extended this year's winning streak with one of its best months of performance on record. That's been a much needed rebound for the fund that's been recovering from years of decline. In the past six years, it has posted five annual losses. 
A spokesman for the investment firm declined to comment.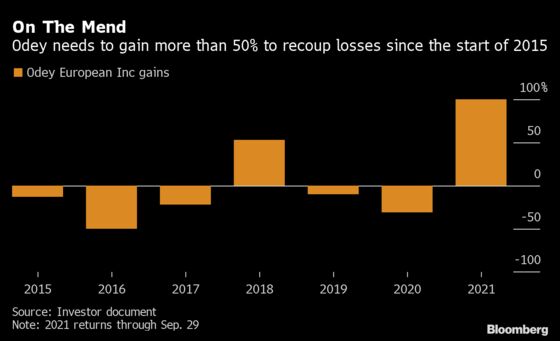 It's not clear how Odey made money but he has recently been targeting long-dated government bonds amid expectations that a post-pandemic economic recovery will fan inflation. The fund's short exposure to government bonds totaled 836% of its net asset value at the end of August, according to an investor letter seen by Bloomberg.
Its stake in Oxford Nanopore surged in value after the DNA-sequencing company listed in London on Thursday. Based on its last disclosure to investors of its stake in 2019, the holding has returned about 131% since then. The company was one of the unlisted holdings in the fund.
Odey's hedge fund had more than 82,000 shares of Oxford Nanopore valued at 5.1 million euros ($5.9 million) at the end of 2019, according to its annual report. On Aug. 23 this year, Oxford Nanopore issued a one-for-one bonus and a subsequent share split of 10-for-one. Assuming he kept the holding, Odey's hedge fund's stake would be valued at 11.8 million euros, based on the shares rising to as much as 622.9 pence on Thursday.
A spokesman for the London-based investment firm declined to comment on the holding and it's not clear how many shares the hedge fund still owns.
Oxford Nanopore, a developer of technology for molecular detection and analysis, was once backed by disgraced fund manager Neil Woodford. The Oracle Corp.-backed company provides Covid-19 test kits to Britain's National Health Service, and its sequencing technology has been used by researchers to characterize the genome of the SARS-CoV-2 virus to identify and track variants. 
The flotation represents a missed opportunity for former investors in Woodford's Patient Capital Trust fund. Woodford first invested in the company back in 2011 during his time at asset management firm Invesco Ltd. His subsequent venture, which launched in 2015, also held a stake in Oxford Nanopore but the fund ran into trouble after making a series of concentrated bets in illiquid companies.
Schroders took over management of the investment vehicle in October 2019 and administrators were appointed to liquidate the assets. This led to the sale of a portfolio of holdings, including a portion of the stake in Oxford Nanopore to U.S. investor Acacia Research Corp.
Some of Woodford's former investors may still benefit from the flotation. As of Aug. 30, the Schroders-managed fund still owned a 3.7% stake in Oxford Nanopore. Acacia will see even more upside -- the firm owns a 6% stake, according to an August press release.