Sky and Randgold Give Two More Wins to Odey's Hedge Fund That's Up 29%
(Bloomberg) -- Bearish hedge fund manager Crispin Odey is making money on his long bets.
The London-based money manager, who has for years predicted a market crash and lost money betting on it, is one of the largest shareholders of Sky Plc and Randgold Resources Ltd, the two-biggest gainers of the STOXX Europe 600 Index on Monday. Randgold's shares surged more than 6 percent after Canada's Barrick Gold Corp. agreed to buy the goldminer, and Sky rose as much as 8.8 percent after Comcast Corp. won the auction for the U.K. broadcaster.
Comcast won Sky with a bid of 17.28 pounds a share, a premium of 9 percent to Sky's closing price on Friday.
"I'm very pleased. It was a great price," Odey said of Sky in a phone interview, adding that he added to his bets when the shares traded at 14.92 pounds. Odey had previously predicted that a deal could fetch as much as 18 pounds a share.
Monday's gains helped boost returns at Odey's flagship fund, which is recovering from three successive years of losses. The Odey European Inc. fund, which runs about $700 million at the strategy level, gained about 29 percent this year through Sep. 14, according to an investor estimate seen by Bloomberg News. Odey said the returns have improved further since then, although he didn't specify the extent of the gains.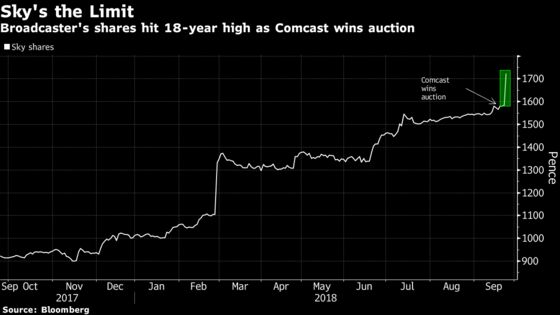 Odey has for years anticipated a market sell-off and suffered as his predictions haven't panned out, with his flagship hedge fund plummeting in 2016 and 2017. In his latest newsletter sent earlier this month, he once again flagged his bearish views.
His funds are "positioned for more difficult times, invested in those companies that would be able to take advantage of a crisis, should it come along," he wrote. "Who knows when that happens? As Noah said to the doubters, 'How long can you tread water?'"