Crispin Odey's Fund Among Winners as Intu Takeover Collapses
(Bloomberg) -- Hedge-fund manager Crispin Odey saw his bet against Intu Properties Plc pay off as a Brookfield Property Group venture abandoned its pursuit of the U.K. shopping-mall owner on Thursday.
Intu plummeted by as much as 41 percent in London, the most since it started trading in 1992. The drop means a quick profit for short sellers. Odey Asset Management was the largest short seller betting against the company. A Barclays Plc filing disclosed wagers by a client totaling 0.6 percent of the company's shares on Tuesday.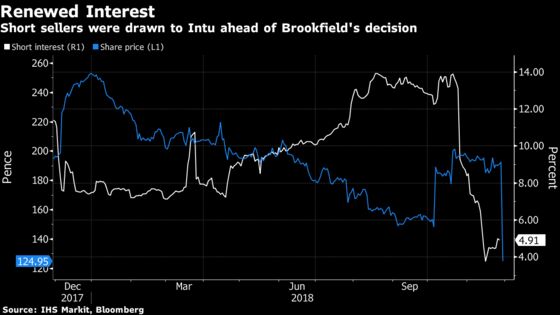 Bearish bets against Intu had started to grow this month after falling to their lowest level since 2015. They stood at 4.9 percent of shares outstanding on Nov. 27, according to data compiled by IHS Markit.
The Brookfield venture said it declined to make an offer for the U.K. mall owner a day after the Bank of England warned that a disorderly Brexit could trigger a price slump in commercial properties in the U.K. In response, Intu said it would slash its dividend.
The prospect of a takeover involving one of the world's biggest property companies as well as existing investors in Intu had caused the stock to rise as much as 25 percent since the talks were revealed in early October. The deal's collapse marks the second time this year that a possible purchase of the company fell through.
The deal's failure caused British billionaire John Whittaker's investment vehicle to suffer a $350 million one day loss as the shares plummeted. Whittaker's closely held Peel Group is Intu's biggest shareholder with a 27 percent stake.
A representative for Odey declined to comment.