China Traders Suspect State Support Amid Odd Stretch of Calm
An unusual sense of tranquility has descended on China's financial markets.
The country's stocks and government bonds have slowed to a crawl. The Shanghai Composite Index reached lows in volatility unseen in nearly two years, while the benchmark 10-year bond yield is moving in the narrowest range since 2012. And despite some drama for the yuan this week, implied volatility remains near the lowest since August.
That everything should go quiet while markets elsewhere in the world swing on each new development in the trade war is especially surprising to China watchers. Some have started to question whether Beijing is acting to limit volatility in its markets, something authorities have a history of doing. While there's no clear evidence of direct intervention in equities or the yuan, state media has recently come out in support of the stock market.
"I wouldn't be surprised to see if the government asked banks or funds to not react to the news," said Justin Tang, head of Asian research at United First Partners, who added that he does not see direct intervention as in the past. "The government could be a quiet hand of the market in China."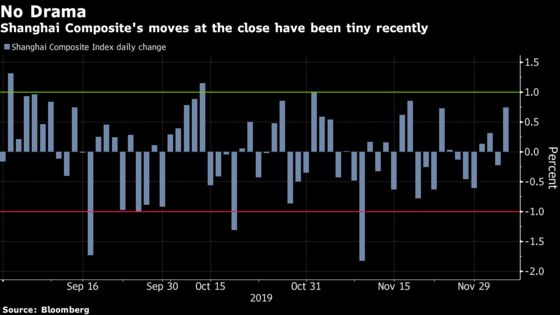 The stock market is particularly quiet, with one measure of volatility on the benchmark gauge dropping to the lowest since February 2018. That calm comes even as equities in other countries slid earlier this week because U.S. President Donald Trump signaled he is willing to wait another year before reaching a trade deal with China. Stocks in the U.S. and Europe then got a boost on Wednesday on a report China and America were moving closer to an agreement.
The Shanghai Composite Index rose 0.7% at the close on Thursday, while the onshore yuan inched higher to 7.0450 a dollar.
China's "national team," as state-backed funds are called, is sometimes suspected of buying shares to ensure market stability around major events like legislative meetings or big anniversaries. Earlier this year, a chorus of Chinese officials and state media outlets offered verbal support for the yuan as it weakened toward the key 7 a dollar level.
More recently, state financial newspapers have run stories aimed at easing investor concern about heavy stock issuance, saying future initial public offerings will be approved at a "steady" pace. Commentary has also appeared saying the equity market will have enough liquidity in 2020.
Those articles come before the Chinese government is to hold the Central Economic Work Conference in the coming weeks in Beijing. The country's top policy makers attend the event, which is held to set economic policy for the year ahead.
To be sure, other factors are keeping investors out of the market. Forecasts for corporate results that are expected in early 2020 are one of them, said Hao Hong, chief strategist at Bocom International.
"Does this lack of volatility feel normal? No," he said. "But major earnings are happening next year and investors are likely waiting for them."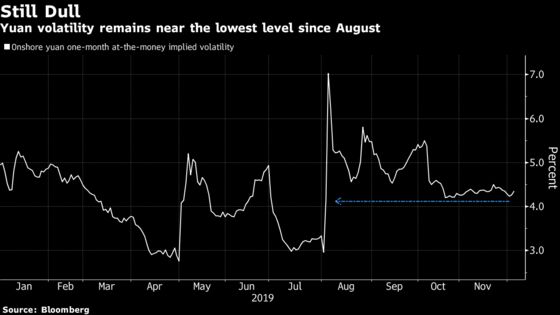 Investors are also watching to see what happens around the Dec. 15 deadline the U.S. has set for its next round of tariff hikes -- one that would hit about $160 billion in imports from China, including smartphones and toys.
Still, that date on the calendar gives China's authorities a reason to soothe markets, United First Partners' Tang said.
"In the run-up to the Dec. 15 deadline, it could be that China is quietly calming domestic markets," he said. "If the Shanghai Composite declines, Trump can use it as a negotiation tactic against China, and China wouldn't like that."