Och-Ziff Saw Hedge Fund Clients Pull $1.1 Billion in Quarter
(Bloomberg) -- Och-Ziff can't stop the bleeding.
In the third quarter, like every quarter since the end of 2014, Och-Ziff Capital Management Group LLC saw clients pull money from its hedge funds. With this quarter's outflow of $1.1 billion, total withdrawals from its multi-strategy funds since then have reached almost $25 billion.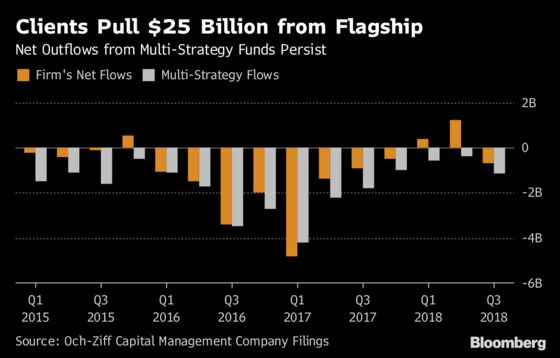 A bribery probe started the rush out the door, but even after the firm entered a deferred prosecution agreement with the U.S. in 2016, money continued to leave its hedge funds. Och-Ziff countered this outflow by issuing collateralized loan obligations, but those assets earn much lower fees. The New York firm manages $32 billion across products as of Nov. 1, according to a statement Friday.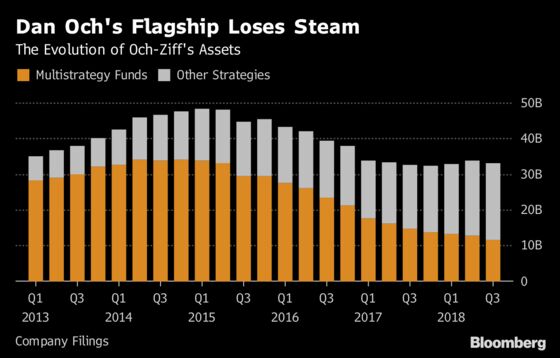 The outflows from its flagship hedge fund were about three times more than the previous quarter, when Chief Executive Rob Shafir expressed confidence that investors would return.
"Multi-strategy inflows continue to disappoint, but we are actively engaged with both existing and potential clients across the U.S., Europe and Asia," Shafir said in a conference call Friday. He added that the fund recently secured an investment from a "major" private bank and is in talks with others.
"We anticipate that our gross outflows will be the lowest on a percentage basis since the fourth quarter of 2015," he said.
Firm expenses this year have surpassed revenues as fee income fell. Costs were $373.7 million in the first nine months of the year, compared with revenues of $332 million. The average management fee across the firm was 0.81 percent at the end of the second quarter, compared with 1.42 percent three years earlier.
"You've seen our headcount reduced pretty substantially over the course of this year, and we are focusing on a lot of things -- some structural and some more tactical in terms of managing our cost base," Shafir said. Och-Ziff has 428 employees today, down from 483 at the end of 2017.