Ocado Stock Takes On More Rocket Fuel With M&S Joint Venture
(Bloomberg) -- Astronomical share price expectations for online grocer Ocado Group Plc are in regular need of fuel, so Wednesday's announcement of a deal with Marks & Spencer Group Plc couldn't have come at a better time.
The stock wobbled in recent weeks after a fire destroyed one of its automated warehouses, but soared 12 percent on Tuesday as news of talks with M&S emerged. Confirmation of the deal brought a further 8.1 percent pop for the shares early on Wednesday, and while Ocado later erased most of that gain, it is still trading about 8 percent above the average analyst share price target.
Proceeds from the M&S tie-up will allow Ocado to fund the development of customer fulfillment centers as part of a series of international technology agreements that helped make the stock the FTSE 100 Index's best performing member last year.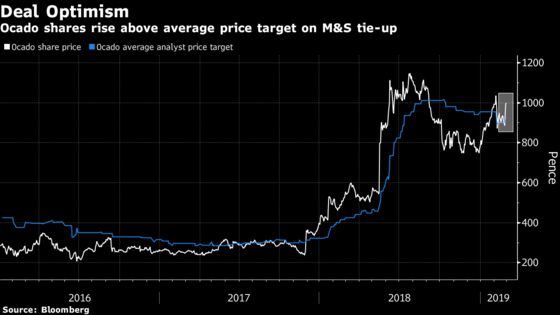 "There are questions about how the new venture will fare, but it provides the visibility Ocado needs on its food operations here, while allowing it to focus again on winning new software deals around the globe," Chris Beauchamp, chief market analyst at IG Group Holdings Plc, said by email. "More announcements are needed to maintain this momentum, but it seems Ocado has got the direction of travel right."
Bruno Monteyne, an analyst at Sanford C. Bernstein, sees Ocado's average price target rising above the current level of 925 pence because not many people had anticipated the deal with M&S. He has a price target of 1,440 pence, which is higher than that of all analysts tracked by Bloomberg.