Oaktree's Marks Left Salivating as Debt Swoon Came and Went
(Bloomberg) -- Oaktree Capital Group LLC joined the roster of investment firms posting negative returns from distressed assets after the fourth quarter's swoon in high-yield markets provided only a fleeting opportunity to invest.
Gross returns for Oaktree's distressed-debt funds were minus 1.5 percent for the quarter ended Dec. 31, the company told investors during an earnings conference call on Tuesday. The full-year gain from troubled assets slid to 10 percent from 18 percent a year earlier. Gross return refers to gains before the deduction of fees, expenses and carried interest.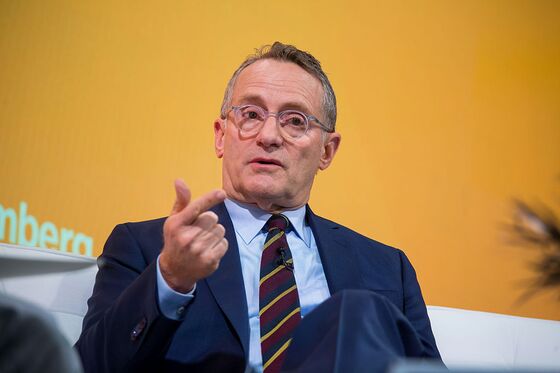 "Things swing between flawless and hopeless, and that's what happened in the fourth quarter," co-founder Howard Marks said during the call. The firm is waiting for an entry point, which may have been foreshadowed by the market's plunge in the final three months of 2018, he said.
When prices were falling in December, "I was starting to salivate," Marks said during the call. But the opportunity disappeared with January's rebound, and the outlook for corporate credits remains "quite benign," he said.
Read More: Distressed-Debt Supply Decline in January Muddies Trends
That doesn't mean the opportunities won't come, Marks said. "Now is a good time to have dry powder," given the outstanding amount of low-quality debt and fallen angel candidates at risk of a downgrade, he said. The firm reported $19 billion of uncommitted capital waiting for deployment across all strategies.
"The pieces are in place," Marks said, "but we need an igniter and that will probably require a recession."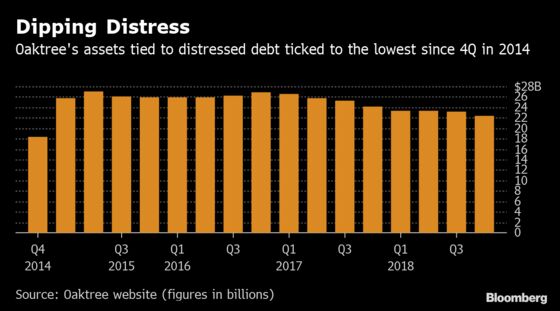 Los Angeles-based Oaktree is one of the largest distressed-debt investors in the world and has about a $22.3 billion of its assets committed to troubled issuers. Chief Executive Officer Jay Wintrob said in June he ultimately expects a flood of troubled credits topping $1 trillion as rising interest rates overwhelm low-quality loans and bonds.
For now, amid slim U.S. pickings in a late-cycle environment, Oaktree's distressed-debt team has resorted to private deals in Europe and Asia, as well as dislocated industries such as communications, health care and retail, Marks said. The firm became a major equity holder in some bankrupt issuers after it traded debt holdings for stakes in David's Bridal Inc. and Fullbeauty Brands.
Around 40 percent of Oaktree's deployed capital for distressed debt was outside the U.S. and the firm continues to have a bigger group of investment professionals outside of the country, Wintrob said on the call.
Oaktree had a "particularly good year" relative to its competition in distressed debt, management said on the call. The firm's performance follows distressed-debt rivals who cited recent turmoil in the energy industry and turbulence in overall credit markets. Last week, one of Oaktree's largest peers, Blackstone Group LP's GSO Capital Partners, posted a negative 5.9 percent gross return for distressed strategies in the fourth quarter.
Oaktree wasn't immune to withdrawals, Wintrob said, with $4 billion in net outflows in 2018, primarily from its high-yield bond and convertible security strategies.