Oaktree Distressed Returns Rise Despite Extended Market Drought
(Bloomberg) -- Oaktree Capital Group LLC joined the roster of investment firms posting gains from distressed assets while waiting out the long drought in newly troubled issuers.
Composite gross return for Oaktree's distressed-debt funds was 6 percent for the second quarter ended June 30, the company told investors during an earnings conference call on Thursday. That's up from 3 percent in the first quarter and 4 percent gains in the comparable period of 2017. Gross return refers to gains before deduction of fees, expenses and carried interest.
"We are deploying our dry powder judiciously, consistent with our view that it is late in the cycle, and capitalizing on the current market environment by actively harvesting investments," Chief Executive Officer Jay Wintrob said in a statement. Even against the backdrop of Oaktree being known as a distressed player in a non-distressed market, "we're finding interesting things to do," Wintrob told investors during the call.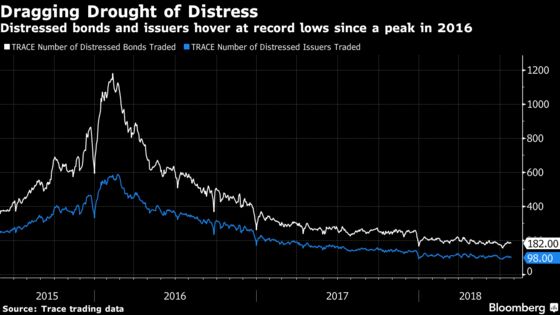 Wintrob's comments mirror those of distressed-debt rivals who are scrounging for places to put new money. Default rates are at an all time low and headed lower as easy credit keeps struggling companies afloat. One of Oaktree's largest peers, GSO Capital Partners, posted a positive 3.8 percent gross return from distressed for the quarter last week despite the dwindling supply of troubled companies. Among advisory firms, FTI Consulting Inc. reported strong quarterly results at its restructuring business Thursday, citing higher demand for its services.
"Sustained economic growth has been supporting credit conditions" in the U.S., Moody's said in a recent report, forecasting odds of 10 percent to 15 percent of a recession through the first half of 2019. At the same time, the distressed debt sector is on its way to a third straight year of gains, outperforming other fixed-income assets, according to data from the ICE-BofAML index of troubled issuers.
"The seeds have been planted" for distressed investors "to take advantage of what I think are going to be real issues in direct lending," Bruce Karsh, Oaktree's chief investment officer said on the call. "There's been a huge, huge incentive for people to just put money out," while leverage ratios and buyout valuations are at all-time highs, he said.
Assets under management in Oaktree's distressed funds decreased to $23.3 billion from $23.4 billion in the first quarter and $25.8 billion in 2017's second quarter, according to the company's website. The firm's total assets under management stood at $121.6 billion as of June 30, up slightly from $121.4 billion at the end of the first quarter and $121.1 billion as of same period last year.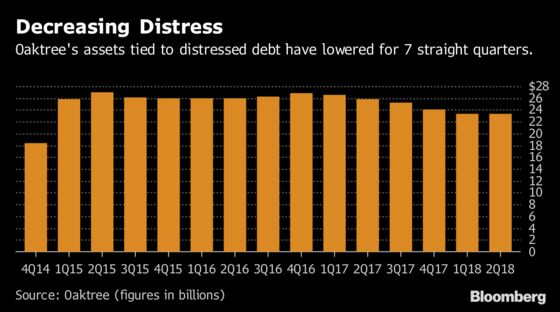 Oaktree is one of the largest distressed-debt investors in the world and has about a fifth of its assets committed to troubled issuers. Amid slim pickings in the U.S., the firm has looked to spread its distressed strategies into China, India and other emerging markets. Wintrob has predicted a trillion-dollar flood of distressed opportunities when credit conditions tighten.
"We'd like to see a cycle unfold here so our discipline and patience will be highlighted, and will shine," Karsh said. "There's nothing we can do about the environment, and it does get a little frustrating to see a cycle that may be the longest in post-war history, but it is what it is."