NYSE Names First Woman Chief in Exchange's 226-Year History
(Bloomberg) -- The New York Stock Exchange promoted Stacey Cunningham to president, making her the first woman to be the sole head of the 226-year-old market.
Previously chief operating officer, Cunningham replaces Tom Farley, who's leaving the company, according to Josh King, a spokesman for NYSE parent Intercontinental Exchange Inc.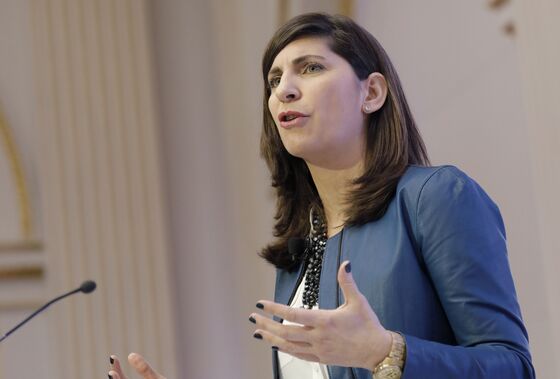 NYSE's move means two of the top three U.S. stock exchange operators are led by women. Adena Friedman became chief executive officer of Nasdaq Inc. last year. For a time in the last decade, NYSE was jointly run by a woman, Catherine Kinney, but Cunningham is the first not to share the president title.
Cunningham said in a CNBC interview Tuesday that one of her primary goals will be to push for regulatory changes that will help smaller companies access public markets earlier. She also said she supports changes to simplify market structure and help investors better understand the markets.
"The level of fragmentation has gone too far," Cunningham said. "We are in support of driving some change, but we want to make sure the issuer voice is part of that change."
Cunningham, 43, got her first taste of NYSE in 1994, when she interned as a trader on the floor. She worked as a NYSE floor specialist for Banc of America Specialist Inc. from 1996 to 2005.
"I'm not that person who had a career path mapped out in high school or college; I didn't have this grand vision of where I was going to go," Cunningham told a group of interns in 2015. "It just took one day to change my career path. The moment I walked into that building and onto the floor, I just knew that it was the place that I belonged at that time."
She left her job on the trading floor to go to culinary school, only to return to the industry as an executive at Nasdaq. She shifted over to NYSE in 2012, becoming COO in 2015, according to her LinkedIn profile. ICE bought NYSE Euronext in 2013.
Farley is leaving NYSE to run a special-purpose acquisition company backed by Dan Loeb's Third Point LLC, according to a regulatory filing Tuesday. The SPAC, called Far Point, wants to raise $400 million to acquire financial-technology companies.
Cunningham said in Tuesday's interview that the exchange will continue to watch cryptocurrencies for opportunities there. NYSE in 2015 bought a stake in Coinbase, one of the biggest crypto exchanges.
"The space is rapidly evolving, and we'll see where it goes," she said.