Nvidia Hands an $824 Million Windfall to Semiconductor Shorts
(Bloomberg) -- A semiconductor sell-off sparked by a dismal sales forecast from Nvidia Corp. resulted in a windfall for short sellers.
Investors betting against chip stocks had reaped $824 million in mark-to-market profits as of Friday afternoon, according to financial analytics firm S3 Partners. The majority came from short positions in Nvidia, whose 19 percent loss was its worst in 10 years. Competitor Advanced Micro Devices Inc. fell 3.9 percent.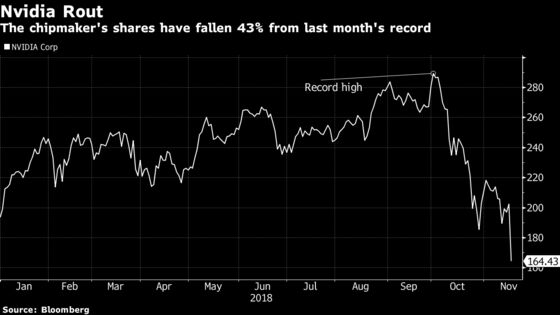 The total value of short interest in Nvidia has fallen about 20 percent since the start of October and now stands at $2.7 billion, according to S3 managing director Ihor Dusaniwsky. Short sellers have been even more aggressive in cutting exposure to AMD as the stock has fallen from a 12-year high in September. AMD short interest has declined by about 40 percent to $2.5 billion in the fourth quarter, according to S3.