Nowhere to Hide as World of Cross-Asset Pain Hits Investors
(Bloomberg) -- The October stock rout has delivered a wake-up call to money managers searching for shelter this year.
Swelling dollar-funding costs, equity volatility and fissures in the synchronized growth story are punishing assets across the globe.
A month ago, U.S. stocks were one of just a handful of markets that had doled out a decent return in 2018 -- before $2 trillion was wiped off their value in the space of a few weeks. While the S&P 500 Index pared some losses Thursday, U.S. futures signaled a lower open on Friday amid downbeat results from Amazon.com Inc. and Alphabet Inc.
European shares are in worse shape. The Stoxx Europe 600 Index has shed over 10 percent this year in dollar terms. Meanwhile, cash has dethroned risk assets, with an index of U.S. Treasury bills returning about 1.4 percent.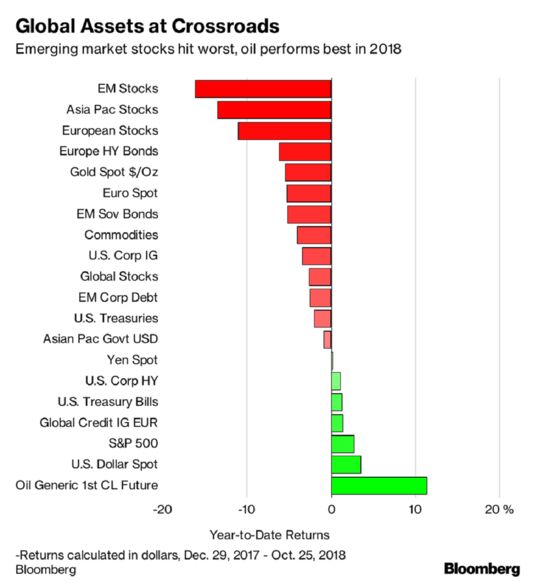 "So much for gains on my investment portfolio this year," wrote Bill Blain, strategist and head of capital markets at Shard Capital in London, in a note.
On the current trajectory, investors will be left with just the dollar and crude oil as the few major asset classes to eke out a decent gain for the year. Treasuries and risky corners of the credit world are still in the green.
"There are multiple factors affecting the markets," said Daire Ferguson, chief executive officer of Irish online currency platform AvaTrade Ltd. "For now, they seem a little compounded: Chinese trade wars, Brexit uncertainty, stimulus programs in Europe and Middle East oil threats."
Life is bleaker for multi-asset investors in real terms. By that metric, 2018 was already on track to deliver the lowest share of positive returns across 17 asset classes since 2008, according to Morgan Stanley data last month.