Get Stuck Into Asia Junk Bonds Now, Says BNP
(Bloomberg) -- Asia junk bonds may have staged a comeback from beaten-down levels in recent weeks, but they're still offering enough of a juicy yield premium to lure in investors such as BNP Paribas Asset Management Ltd.
Spreads on Asia dollar high-yield notes average 4.7 percentage points, after reaching a more than two-year high of 5.82 percentage points a month ago, according to a Bloomberg Barclays Index. Investors in the region's junk bonds got returns of 1.77 percent last month, led by Indonesia and India, at 5.5 percent and 3.1 percent respectively, according to an ICE BofAML index.
BNP Paribas Asset in July added bonds for India and Indonesia high-yield energy companies, which are reporting robust operating profits and reducing leverage, according to Ek Pon Tay, portfolio manager at the firm. The French fund manager joins others such as Goldman Sachs Group Inc., Nomura International (HK) Ltd. and JPMorgan Chase & Co. that have recently given Indonesian junk debt the thumbs up.
"These are the times where you have a lot of opportunities to get in at very good levels," said Tay, a Singapore-based portfolio manager at the firm, which managed and advised on 560 billion euros ($650 billion) of assets as of June. "We like the valuations in Asia dollar high yield."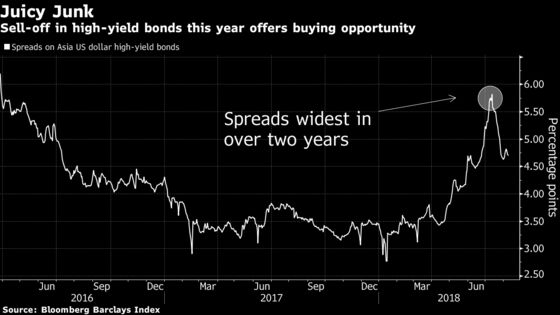 For the right names, Indonesia offers an attractive pick. Investors are better off buying the existing notes of Indonesian issuers with a longer track record in the secondary market, said Trung Nguyen, a senior credit analyst at Lucror Analytics Pte., after real estate company PT Intiland Development pulled its debut dollar bond offering this week.
Among Chinese high-yield bonds, BNP Paribas Asset is avoiding the industrial sector, where borrowers "face significant overcapacity" and higher default rates are likely, according to Tay. The firm is also underweight on China's local government financing vehicles but has increased its exposure to state-owned enterprises involved in strategic industries, he said.
Demand from China's investors for overseas debt has declined, and Chinese dollar-denominated notes are likely to see a "modest" performance this year, Tay said. Such investors have been key buyers and helped to support valuations for China's offshore bonds.
China's measures to boost liquidity in July have brought Asia high-yield bond spreads in from a month ago. However "onshore investors will remain selective and given the deleveraging cycle, the leverage levels employed for such investments will be lower," said Tay.
In Indonesia and India, though, a recovery in oil prices this year has helped shore up balance sheets of commodity-related issuers. The 2024 dollar bonds of Indonesian coal miner PT Indika Energy have rallied to about 94 cents on the dollar, from 87.6 cents a month ago. There's been a near 5 cent gain to 92.8 cents in the 2024 notes of billionaire Anil Agarwal-controlled Vedanta Resources Plc in that period.
"If you pick the right sectors and names, you should do well over the next 12 months," Tay said.