November Pain for Carlyle-Backed Diamond Bank as Stock Plunges
(Bloomberg) -- When it rains it pours and Nigerian lender Diamond Bank Plc is facing a deluge.
Shares of the Lagos-based lender, backed by Carlyle Group LP, are at an all-time low after their worst month on record. Diamond Bank kicked off its November with a debt downgrade by S&P Global Ratings. A day later, it cut its earnings forecast by more than half. It followed that up within three days by scotching talk of an investor recapitalizing its operations. By the end of the month, Moody's Investors Service added to its woes with another rating cut.
The company is trying to fight back. The retail lender sold its West African operations about a year ago to focus on Nigeria, and is in the process of selling its U.K. unit, which Stanbic IBTC Stockbrokers estimates could fetch from $60 million to $70 million. It needs to secure that money: Diamond Bank's dollar obligations next year include a $200 million Eurobond and $51 million International Finance Corp. loan, according to the broker.
"Ultimately, if we get clarity on the financial close of the sale of the U.K. entity, we get more comfort in terms of understanding the road map for Diamond Bank to meet its important Eurobond obligation due in May next year," the Lagos-based broker said.
Diamond Bank is confident it can meet its obligations, the lender said in response to questions, adding it is in talks with development finance institutions and multilateral agencies for dollar funding to help it meet the Eurobond repayment. Yields on the notes have surged, jumping from 9.8 percent in September to 31 percent on Friday.
The lender is hopeful crude prices will rebound, which could trigger loan repayments by oil-exploration companies, boosting foreign-currency liquidity. It can also rely on "a number of foreign-exchange linked deposit products with medium- to long-tenure, which have enjoyed success in the market, and continue to generate reasonable foreign-exchange flows."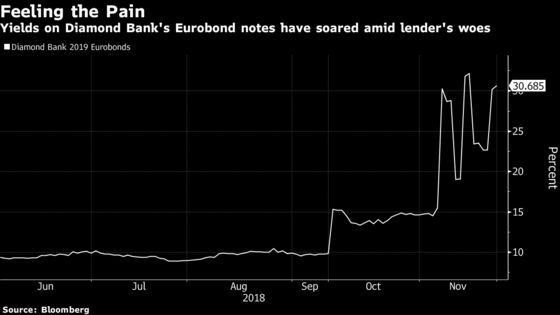 The stock closed 1.5 percent down at 65 kobo on Friday, paring earlier losses of as much as 7.6 percent after Bloomberg's report on its ability to meet the Eurobond payments. Still, it has lost 54 percent this month, the worst performer in Nigeria's all-share index.
Diamond Bank is among small Nigerian lenders struggling to recover from a 2016 contraction that hit companies and caused bad debts to soar.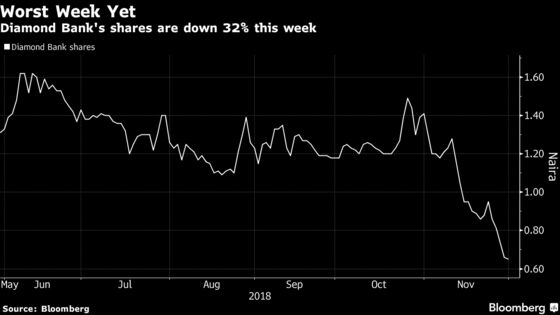 "There are issues with management and the way the bank is being run," Robert Omotunde, a banking equity analyst at Afrinvest West Africa Ltd. said by phone from Lagos, adding it still needs to deal with a non-performing loan ratio of 12.6 percent in the third quarter.
"For a bank that is barely trading at 10 percent of its book value, it tells you that sentiment is not in its favor," he said, but it might just be trading at levels that may entice investors.