Nothing Is Awesome for Europe Stocks as Italy Meets Global Rout
(Bloomberg) -- Here's a list of things European equity investors have to worry about on Tuesday: Italy's budget, Asia's sell-off, falling U.S. futures, and a slew of bad corporate news.
Little surprise then that the Stoxx Europe 600 index should be headed for its lowest close since December 2016 with a drop of 1.4 percent.
Italy provides a key focus, with the European Union poised to deliver its verdict on the country's budget this afternoon. An unprecedented rejection could further sink Italian assets, although for once the FTSE MIB Index is a relative outperformer, falling just 0.7 percent. Europe's much-battered banking sector will also be watching the EU's decision closely.
Equity investors have plenty of other reasons to be worried right now. A Chinese rebound on Monday proved short-lived, and U.S. futures are pointing to a fifth-straight day of declines. Investors are in the mood for safe havens, with Treasuries and gold rising on Tuesday.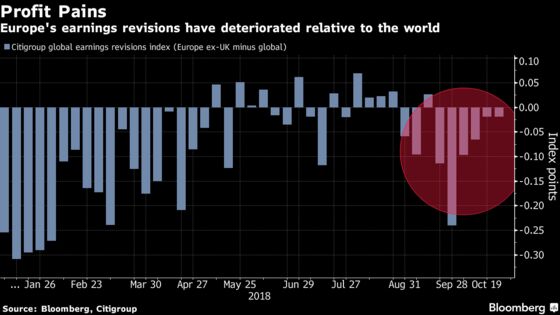 And where to start with the bad news pulling down individual stocks? Bayer is down 7.5 percent after failing to persuade a California state judge to set aside a jury's verdict in the first trial over allegations that its Roundup weed killer causes cancer. GAM lost 17 percent on a slide in assets following a star fund manager's suspension. Renault missed quarterly sales estimates, while tech companies Ingenico Group SA, AMG AG and Atos SW all disappointed.
Even before those numbers, it was a weak start to the earnings season, with 32 percent of companies missing profit expectations compared with 23 percent beating them, Morgan Stanley said in a note Monday. Earnings downgrades are also worsening, even compared with the deteriorating global picture.
The only sector that's up on Tuesday is good old utilities, led by National Grid Plc and Severn Trent Plc. For now, it's defensive all the way.