Not Time 'to Be Heroic' But We're Buying, Fund Manager Says
(Bloomberg) -- The swiftest downdraft from record high into correction territory for U.S. stocks has put Cambiar Investors LLC in "buy" mode.
The S&P 500 Index was at a record just last week, but six days later, it's down 12%. To Brian Barish, the chief investment officer at Denver-based Cambiar, the ultra-quick decline has brought a number of stocks on the firm's "wish list" close to or meeting its buy points.
"To lose this much value this fast -- that smacks of forced deleveraging," Barish wrote in an email late Thursday. "It may not be over, but we are getting there."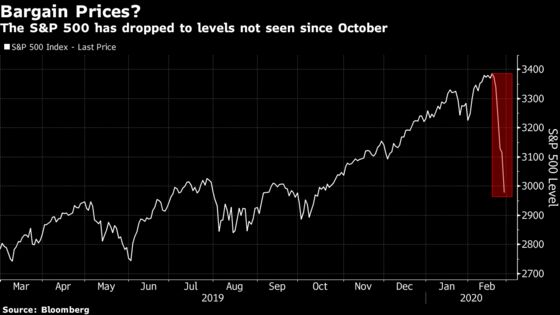 Cambiar, which manages about $14 billion, is looking at three main categories of stocks to buy:
Industries with major dislocation from travel issues, including airlines, cruise ships and resorts. "Assuming this does indeed blow over -- you are taking a big flier on that, but being well compensated for most stocks that fit this description," Barish said.
Those with no obvious financial dislocation: utilities,

telecoms

, defense companies, social media, pharmaceuticals. "These seem like low-risk bets," in cases where prices have dropped to Cambiar's buying levels, he said
Sectors with moderate dislocation or demand relocation. Some industrial, transport, technology and consumer-discretionary companies may see some short-term demand issues, but there's a good chance of a bounce-back in the middle to latter part of the year, Barish said.
The fund manager added it's probably best to strike a balance between those three categories rather than dive into just one. He also noted that with stocks like airlines and hotels, they might be worth buying, but investors should expect data such as second-quarter estimates to be "rubbish."
"Assuming this is mostly deleveraging and a little emotion, you have to understand that there is no chance you can time the bottom, so have to keep plucking away, maybe a stock or two per day, and not try to be heroic," Barish said. With the market back to where it was just four months ago, "this is not really all that severe, at least not yet," he said.