Not a Happy Anniversary: EM's Taper Tantrum Began 5 Years Ago
(Bloomberg) -- A glance back over the years since the tantrum of 2013 casts today's emerging-market ructions in a surprisingly rosy light.
It's the fifth anniversary of the so-called taper tantrum -- a bout of panic selling after Federal Reserve Chairman Ben Bernanke hinted at a reduction in stimulus. What followed was a sell-off that erased years of stimulus-led gains in currencies and stocks, spurring defaults globally.
But it didn't last. When the Fed tightening actually began, developing-nations posted a turnaround and began outperforming the developed world.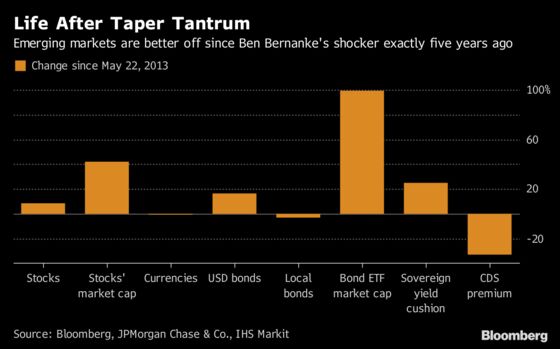 The concern that a reduction in U.S. stimulus would strengthen the dollar and lead to a capital flight away from riskier investments sparked a pre-emptive sell-off. But by the time the Fed raised interest rates for the first time in almost decade in December 2015, developing-nation economies had stabilized and valuations had fallen to a level too juicy to ignore.
The yield cushion that sovereign dollar bonds offered over U.S. Treasuries had risen to more than 5 percentage points, which attracted investors starved of returns in developing countries.
The rally that started in 2016 added about $8 trillion to stocks before the global "wobble" this January. Investors poured money into sovereign dollar bonds, doubling the market capitalization of the iShares JPMorgan USD EM Exchange Traded Fund to $11.7 billion.
The premium traders of credit default swaps demand to insure emerging-market debt against default in the next five years, has fallen by a third, or 82 basis points
The yield spread on sovereign dollar bonds over U.S. Treasuries has also eased by a third from its high, to 334 basis points
The biggest improvement came in investors' risk perception. Emerging markets were an exotic, high-risk addition to global portfolios in 2013, but have now become a mainstream asset class, albeit one that's developed its own quirky mantra of "sell on the rumor and buy on the news."
With economic growth recovering and earnings estimates rebounding to May 2013 levels, the case for emerging markets is now on more solid ground.